Yesterday was Valentine's Day, we don't usually do much for this particular holiday.  Between finding a babysitter and crowded restaurants with limited menus, we'll pass on that one.  For the last few years we have decided that we can give ourselves the food part of the restaurant experience at home. We still have to cook, clean and serve ourselves, but we are OK with that.
The menu for this year and last was pretty much the same.  Filet Mignon with wild rice Risotto and Creme Brulee for dessert.  This year I decided to improve upon the formula by adding Bearnaise Sauce.  I have never made it before, I once made a mockery of Hollandaise Sauce.  That was several years ago and I am much more confident in my skills.  The idea started when I was watching one of the cooking shows on PBS.  Hubert Keller was making it to top a Tomahawk Steak and it didn't look too hard.  Simmer some shallots and tarragon in wine and vinegar whisk in some egg yolks and butter and wham!  You have got yourself some Bearnaise Sauce.  In reality that was pretty much the case.  I did find that I may need to exercise my whisking arm some because there is a lot of whisking that goes down.
It was so good that we didn't leave much and the remainder was served over some poached eggs the next morning, so no pictures from that effort.  I did get a chance to snap a photo of it over some chicken cordon bleu.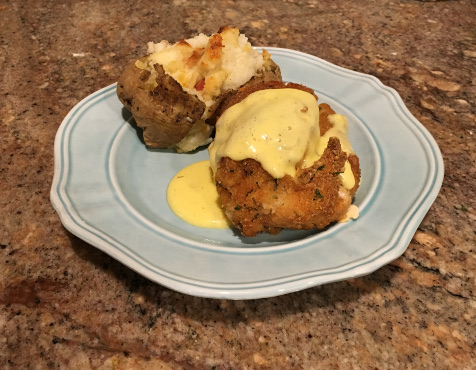 Bearnaise sauce
Author:
Only From Scratch
Ingredients
½ pound butter
4 shallots finely chopped
2 tbsp chopped fresh tarragon
¼ cup champagne vinegar
⅓ cup dry white wine
2 large egg yolks
⅛ tsp white pepper
pinch of salt
pinch of cayenne pepper or to taste
Instructions
Chop the shallot and tarragon and add to wine and champagne vinegar in a saucepan, cook until reduced to ¼ cup of liquid
Add ¼ of liquid and 1tbsp of the cooked shallots and tarragon to the top of a double boiler over simmering water, be careful to not allow the bottom of the bowl to touch the water
Add the egg yolks and whisk continually until the eggs start to thicken
Remove pan of water from heat and add some ice cubes to cool the simmering water
Return bowl to the double boiler and start slowly adding the butter while whisking continuously, continue until all of the butter is incorporated. If the sauce starts to break, remove the bowl from the double boiler and continue whisking.
Once all butter is incorporated add the salt pepper and cayenne