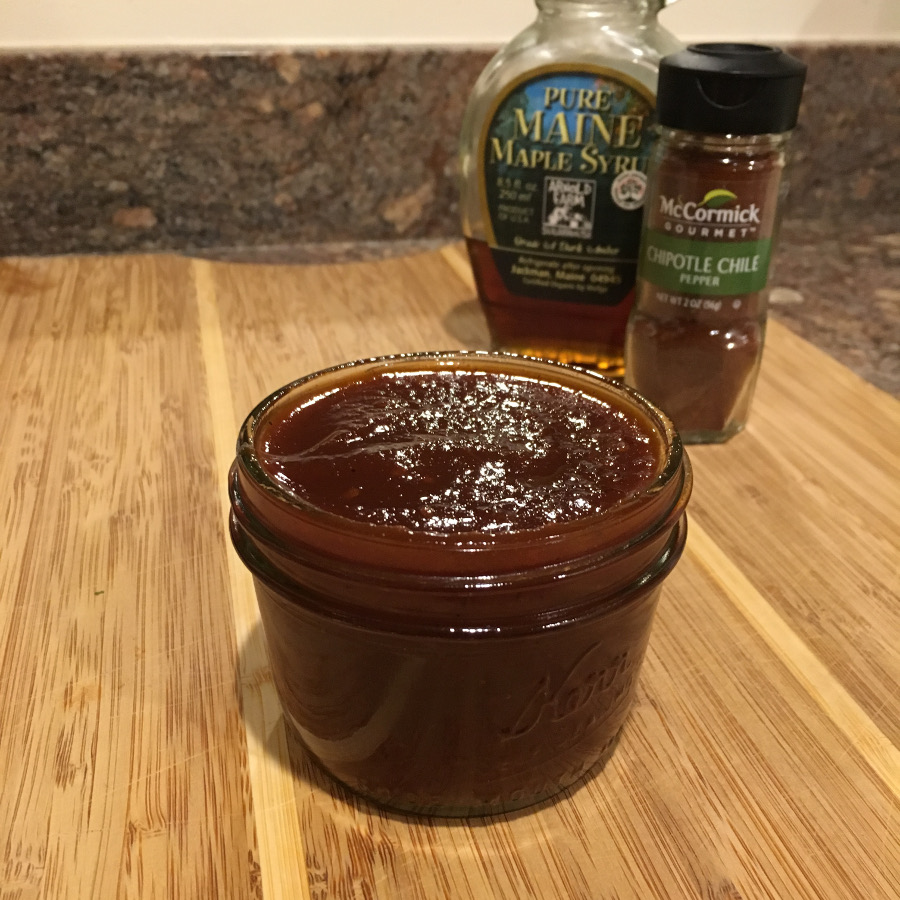 Part of our process of cooking things from scratch involves growing vegetables in the garden.  Last summer we had an excellent tomato harvest.  We canned a lot of the tomatoes (not enough as we used up the last jar a couple weeks ago) and had some left that we wanted to do something with.  Kelly doesn't exactly like ketchup, but she found a recipe online made up a batch to can.  It was quite a bit different than the plastic squeeze bottle from the supermarket.  It wasn't as thick and was a bit chunky, but it was sweet and zesty and had a nice spicy profile to it.  It hasn't replaced our plastic squeeze bottle for hamburgers and hot dogs, but we thought it would make a great base for a barbecue sauce.   That is how we arrived at this homemade maple chipotle bbq sauce recipe.  We used to buy one that was we really liked, but it came from a specialty food store and was quite a bit more that your run of the mill bbq sauce. 
I looked at a number of regular barbecue sauce recipes online picked out the common elements, ketchup,  vinegar, sugar, pepper and onion powder, and added those to a jar of our homemade ketchup.  After cooking it for a few minutes the flavor was missing something.  We like a little kick to our sauce so I added some cayenne pepper and chipotle chili powder.  Now we had the spice, but probably a little too much.  It was at that point that I realized that I needed to add some more sweet to it to tone down the spice.  I had a moment of clarity and remembered that great maple chipotle barbecue sauce that we used to buy.  I started putting a tablespoon or two at a time into the sauce until it tasted right.  Oh boy, did it taste right.  I think it was even better than the one we would buy.  I made sure to take the time to notate the amounts of everything so that I could make it again. 
I threw it together tonight after a soccer game.  We had put a pork roast in the crockpot this afternoon and served the pulled pork with this sauce on some slider sized pretzel rolls. The combination was incredible.
I hope that you give this maple chipotle bbq sauce recipe a try.  We never recorded the ketchup recipe, but I am pretty sure that it was the recipe from the ball jar blue book.  If you are using bottled ketchup, I would put in a small dash or cinnamon, ground allspice and a tiny dash ground clove.  That should cover the difference between the homemade and store bought ketchup.
Homemade maple chipotle bbq sauce recipe tips and tricks:
When simmering the ketchup, be sure not to get the temperature too high.  Because of the amount of sugar in the recipe it can burn really easily.
Homemade maple chipotle bbq sauce recipe
Author:
Only From Scratch
Ingredients
2 cups ketchup
½ cup water
¼ cup apple cider vinegar
6 tbsp brown sugar
5 tbsp white sugar
¼ cup pure maple syrup
1-1/2 tsp onion powder
1 tsp ground mustard
⅛ tsp cayenne pepper
⅛ tsp chipotle chili powder
1 tbsp lemon juice
1 tbsp Worcestershire sauce
Instructions
Add all ingredients and simmer for 30 minutes or until it reaches the desired thickness.