Fall is officially here. Fall is my favorite season, we still have beautifully sunny days without the heat and humidity that comes with summer. The leaves change and create a portrait of color that shows nature's true beauty. Fall is also the beginning of all the great family holidays. Just think of all of the wonderful dishes that come with the holidays. The best part of the dishes are the desserts and the other sweet treats that come along with it. One thing that all of these have in common is that the recipes all use vanilla extract. Did you know that you can easily make your own homemade vanilla extract? You won't believe how easy it is and you'll know exactly what is in it!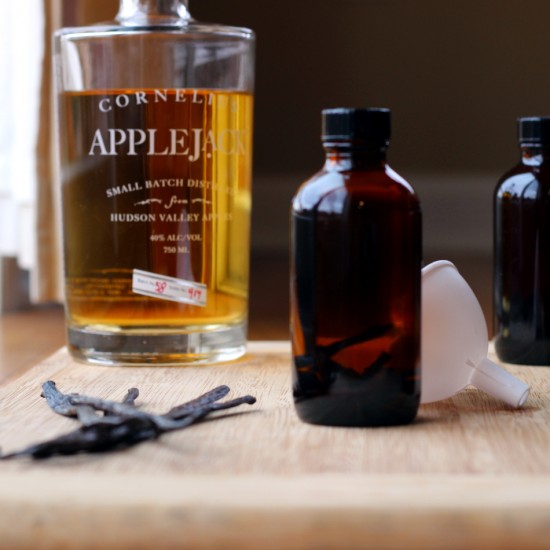 One item that we sail through during this time of year is vanilla extract. I don't think that there is a single cookie recipe in our catalog that does not call of a teaspoon or two of vanilla extract. When we started this effort to cook better for ourselves and the family, vanilla became a bit of a challenge. You have essentially two options when it comes to vanilla extract: imitation or pure extract. Imitation is a chemically synthesized flavor, mmmm, right? Pure vanilla extract is basically some alcohol spirit that is infused with vanilla beans. Since vanilla beans tend to be fairly expensive, the imitation extract is very common as it much cheaper to produce. Then you have pure extract, this costs a bit more and you have more authentic tasting vanilla. Take that a step further and you can spend even more money on organic vanilla extract. This means making your own homemade vanilla extract even more appealing.
Along with everything else, you never really know what you are really buying. For that reason, we started buying organic pure vanilla extract. Tastes great and we felt pretty good about the quality of that ingredient. The main drawback to the organic stuff is that it could be pretty expensive. We often were paying $11 for a 4oz bottle of the stuff. There had to be a better way!
Then one day I was checking out Pinterest or something like that and saw a pin about making your own vanilla extract. I did some additional reading about it and as it turns out, it's so easy that you'll wonder why you didn't do it years ago. The perfectionist in me required that I get appropriate bottles, but any sealed container will work. Hey, you can even hold onto the bottles that you have from store-bought vanilla. The bottles that I picked up from Amazon are pretty nice and could be used if you wanted to hand them out as gifts. It's the perfect stocking stuffer for the baker in your life!
Ingredients:
1-1/2 vanilla beans per 4oz bottle (you can add more or less depending on your tastes)
4oz alcoholic spirits per bottle, vodka is most common, but you can use rum, bourbon or other whiskey I am using a locally made Applejack whiskey.
The process:
Thoroughly wash and rinse out bottles
Cut vanilla beans in half lengthwise and then into 1 inch pieces
Add vanilla bean pieces to the bottles and add spirits until full
Now the hard part, waiting. You will have a usable vanilla extract in about 30 days, but the longer it sits the more developed the flavor will become.
Shake the bottles every few days to agitate the vanilla bean and help develop the flavor.
We made our first batch of homemade vanilla extract the first week of July this year. We kept things simple for the first go round and used vodka as the spirit. From my research into what vodka to use I decided to use a reasonably priced vodka. You'll want to avoid the Crystal Palace and save the Belvedere for your martini. We went with Smirnoff.
We opened the first container in the middle of August. It was pretty good, but not quite ready. The bottle that we opened in September had a more developed flavor and a beautiful amber color. Check out the color in the photo below!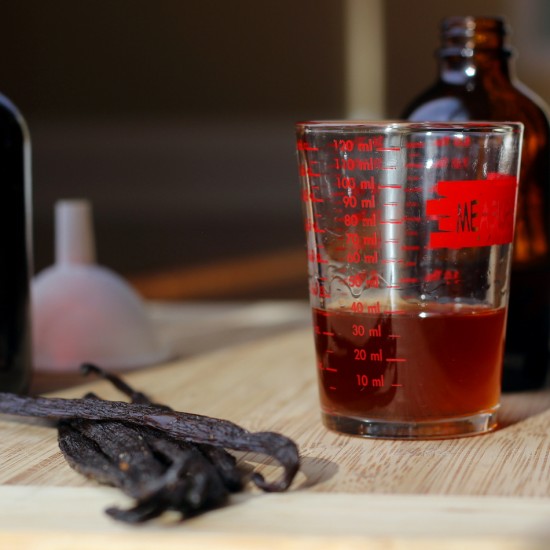 Homemade vanilla extract tips and tricks:
When the bottle is finished, that is not the end. There is so much concentrated flavor in the vanilla beans that you can refill the bottle again and start the process all over again. This is a good way to get a bit more mileage out of these expensive vanilla beans. I suggest that you avoid the supermarket for the vanilla beans. Frankly, most grocery stores have few options for vanilla beans and they are terribly expensive. You can try a specialty food store, depending on what they are charging for the beans, you are most likely better to take a look around online. I got mine from Amazon, they were great and compared to store prices, they were a bargain. If you have Amazon Prime they will be there in two days or less! Also, check out these great bottles.