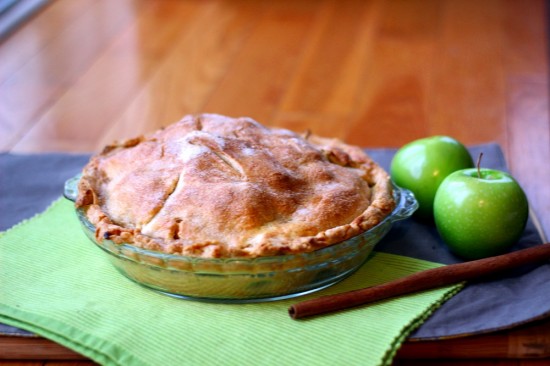 Once upon a time, before I owned a stand mixer or a pastry blender, I attempted to make a pie crust. It was a dry, crumbly disaster. From that moment on, every pie crust came from the refrigerator section. And I was okay with that. Until recently, when my dear husband Eric discovered a winning pie crust recipe, making store bought crusts a thing of the past in this household. This new development, plus a hankering for some warm apple pie, has forced me to confront my pie crust fears today.
I have to give props to my Kitchen-Aid stand mixer. That thing has changed my life and now it's changed my pies too! Pie crust is not a disaster when you have proper tools. Simply mix the dry ingredients using the paddle attachment. Cut the butter into small cubes and toss into the flour mixture and mix on medium speed. Once the butter pieces are a fine consistency add the cold water until the dough comes together. Roll it out on a floured surface, transfer to the pie plate and fill it with the tasty filling of your choice! Pumpkin pie, perhaps?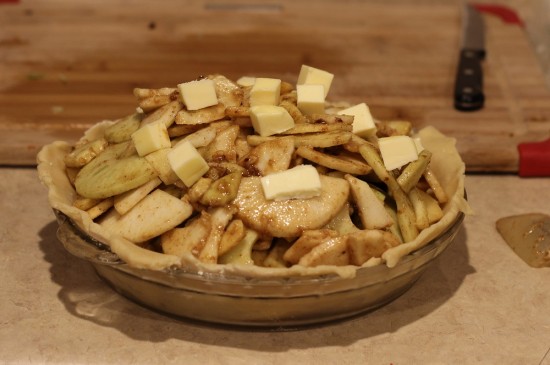 Since it's October in Upstate New York, today's pie would be stuffed with delicious NY apples. This pie contains a (2:1:1) mixture of Granny Smith, Cortland and Gala apples peeled, cored and sliced uniformly thin by my other best friend, the apple peeler/slicer and corer. Now if you do much of anything with apples, you need this device. Best purchase ever!
Anyway, the filling is very straightforward. Prep the apple mixture of your choice. Coat the apples with lemon juice and stir in the dry ingredients. Add the mixture to the pie plate and top with butter cubes. Tuck it all in under a blanket of buttery pie crust. Slice a couple of spots to vent steam, brush on the egg wash, sprinkle cinnamon and sugar and pop it into the oven.
With this recipe, you can finally say good-bye to Pillsbury friends!
Apple Pie with Homemade Pie Crust
2014-10-04 20:01:55
Ingredients
Ingredients
Crust
2 1/2 cups unbleached all-purpose flour
2 Tbs. sugar
1/2 tsp. salt
1/4 tsp. cinnamon
1/8 tsp. nutmeg
16 Tbs. (2 sticks) cold unsalted butter, cut into 1/4-inch cubes
6 Tbs. very cold water
Filling
1/2 cup dark brown sugar, packed
1/4 cup all-purpose flour
1 1/4 tsp ground cinnamon
1/4 tsp salt
7-8 medium baking apples
2 Tbsp fresh squeezed lemon juice
4 Tbsp unsalted butter, cut into small cubes
Topping
1 large egg
1 Tbsp whole milk
2 Tbsp sugar
1/4 tsp ground cinnamon
Crust
Fit the stand mixer with the paddle attachment.
Stir together the flour, sugar, salt, cinnamon and nutmeg in the mixer bowl.
Add the butter and toss to coat.
Mix on medium-low speed until the texture resembles coarse cornmeal.
Add the water and mix on low speed just until the dough pulls together.
Divide the dough in half.
Transfer the dough to a work surface, pat into a ball and flatten into a disk. Dust the surface with flour and roll the dough out into a round at least 12 inches in diameter and about 1/8 inch thick. Repeat with the second dough ball and store the top crust on a cookie sheet, in the refrigerator until ready to use.
Pie Filling and Topping
Preheat oven to 425 degrees F.
Wash, peel, core and slice apples and add them to large bowl. Add lemon juice and mix well.
Add brown sugar, flour, cinnamon and salt to the bowl and mix well.
Transfer apples to dough-lined pie plate. Top with butter cubes.
Place remaining rolled dough over apples. Cut vents in the center of the dough to allow steam to escape during baking. Crimp edges to seal crust closed.
Brush the top of the pie with egg wash (do not use all of it!) and sprinkle with cinnamon sugar. Place pie on a baking sheet and bake for 15 minutes.
Reduce oven temperature to 350 degrees F. Bake for another 40-45 minutes.
Transfer to wire rack to cool.
Serve warm with French vanilla ice cream.
Only From Scratch https://www.onlyfromscratch.com/