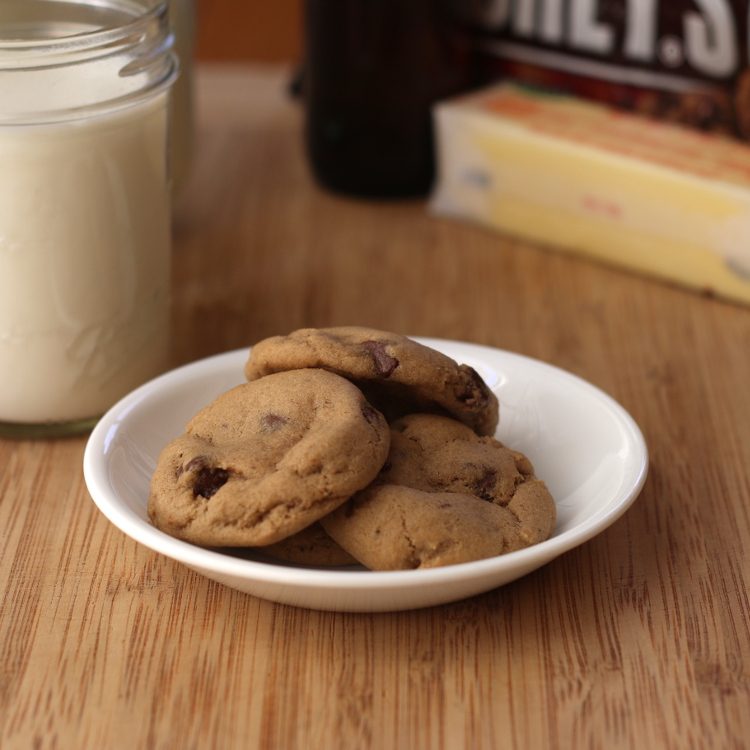 We really love our chocolate chip cookie recipe, but sometimes you are looking for something more.  This is where this mint chocolate chip cookie recipe comes in.  We like to bake a fresh batch of cookies each week to add to the kids' lunches and maybe to steal a quick snack at night.  Don't judge, please. 😉
The way the kids reacted after trying these wonderful cookies, we may have to pick up some extra milk. 
I went in a slightly different direction with this batch.  I have heard that using bread flour in place of all purpose flour for cookies helps the cookies be more fluffy and still retain their softy-goodness.  Nothing much to lose.  Even if these mint chocolate chip cookies turn out lousy, we'll still eat them. 
I went with our standard procedure, use the kitchen aid mixer to assemble the dough and portion using a cookie scoop to keep the cookies uniform in size.  Using parchment paper to line your cookie sheet goes a long way to keep things from sticking and makes cleanup much easier.
Mint chocolate chip cookies recipe tips and tricks:
Refrigerate the dough.  This helps keep the butter from cooking out of the cookies and leaves you with a nice soft cookie.  Also, if you have a convection feature on your oven it speeds up the baking process for the cookies and allows for you to evenly cook more than one sheet of cookies at a time without having to re-arrange the trays while baking.
Once they are baked and cooled we like to store the cookies in a ziplock bag in the freezer.  This helps to keep the cookies fresher for a longer time and acts as a deterrent from snacking.  I either have to be patient and wait for them to thaw, or risk tooth damage from eating frozen cookies.
Mint Chocolate Chip Cookies
Author:
Only From Scratch
Serves:
5 dozen (medium scoop)
Ingredients
1 stick salted butter
¾ cup packed dark brown sugar
½ cup granulated sugar
1tsp pure vanilla extract
2 eggs
1tsp baking soda
1 tsp baking powder
1tsp cocoa powder
½ tsp kosher salt
2-1/2 cups bread flour
10oz bag of mint chocolate chips
Instructions
Cream the butters and sugars together with the paddle attachment in a stand mixer (or handheld mixer)
Add vanilla and eggs one at a time
Mix dry ingredients together in a separate bowl
Add dry ingredients to creamed butter and sugar in mixer and mix until well combined (try not to overmix)
Add mint chocolate chips and mix until just combined
Chill dough in refrigerator for 30 minutes
Preheat oven to 350
Use cookie scoop portion dough, roll into a ball and press somewhat flat and place on cookie sheet
Cook for 9 minutes and remove to cool on cookie sheet for 2 minutes prior to placing on a cooling rack. Repeat process for all of the dough.