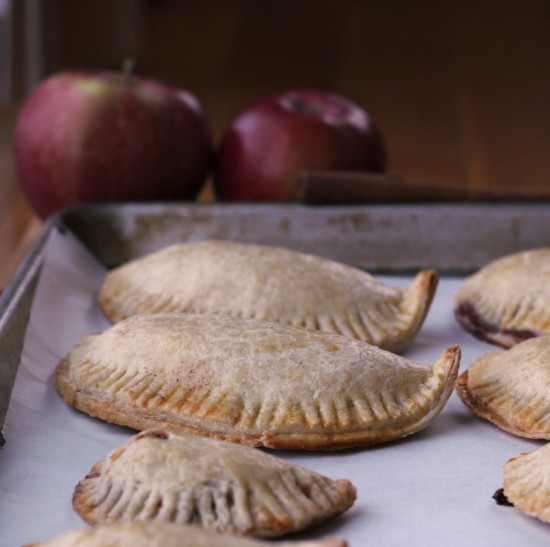 If you take a look at our last few posts, you will see a theme. Fall is in full swing and we have done our apple picking and are now looking for ways to use these apples. We've made a traditional apple pie and apple pie egg rolls, but what now? That got me thinking about trips to the Wonder Bread store as a child. We would go there to get reasonably priced bread, but for us kids, the real reason was that they also were an outlet for Hostess products. We would always pick up treats for our school lunches and one of those were their fruit pies.
The fruit pies were perfect! They had a thick fruit filling, almost like chunks of apple in apple cinnamon jelly. That was wrapped in a crust that was unremarkable, but it was coated in a sugary glaze that tied the whole thing together. I am pretty sure that they were fried instead of baked, as children we didn't worry about such things. For now I am going to forgo the glaze as well.
I got to sleep in a bit this morning and woke up feeling energized. I had been thinking about making this recipe for a while, why not today? I assembled the needed things and started experimenting. I started by cutting up the apple into 1/4″ cubes. I use our apple peeler, slicer and corer to make this a lot easier. These pies wouldn't be too large and small pieces of apple would work better, and that is how Hostess did it. Got that into a nonstick saucepan with a few tablespoons of butter. To that I added the usual pie ingredients: lemon juice, cinnamon, nutmeg, vanilla extract, sugar and salt. I cooked that until the apples were just about soft and added some flour to thicken the sauce. The result was a great balance of sweet and spice with a little acid from the lemon juice and the hint of salt to tie it all together.
As the apples were cooking I started to assemble the dough. I wanted to use our pie crust recipe as a basis, but I didn't think that the flakiness of that dough would hold up. Bread flour should add the additional structure that is needed to hold your pie together as you are wandering about. I basically made the double recipe with the half-recipe amount of butter and enough water to bring into a dough. I didn't have high hopes once it started to come together because compared to the consistency of the dough when using all purpose flour, this seem to be a bit more dense. Once the dough was formed, I transferred it to the counter and rolled it out to about 1/8″ thick. It was more difficult than the standard dough to roll out, I even had to pull out my big pasta rolling pin to get it to the right thickness.

I wasn't sure what size they should be, so I looked around for something to use as a guide. I used a small plate that was about 7″ in diameter. I placed that upside down on the dough and used a sharp knife to cut out the circular shape and proceeded to fill it with some of the pie mixture and sealed it with a fork. I got four of those before I ran out of enough real estate on the rolled out dough to make another. I looked around again and found a round funnel that was about 3-1/2″ across and was able to get four more of those. I had them all filled and sealed up, hit with some egg wash and into the oven they go. I thought that 375 degrees Fahrenheit was a good starting point. Timer was set for 15 minutes and they were left to bake. After 15, they didn't look quite done, another 10 minutes should do it.
Out of the oven and onto a cooling rack for 10 minutes and they were ready to eat. I wish they were a little darker, perhaps baking at 400 degrees for a bit less time would result in a more browned crust. We will try it again and adjust our findings if needed. This temperature yielded a nicely cooked product, so following it was written should not disappoint.
The end product was better than I was expecting. After the working with the dough, I was prepared for something that tasted like an apple pie filled cereal box. The bread flour gave it a more substantial crust that was still tender and cooked to a crispy exterior. The filling was the right consistency and and tasted great. I am usually my biggest critic and find fault with anything, but with the exception of the color being a bit lighter than I would like, I really enjoyed these and I am sure you will too!
Apple handpies
2014-10-19 10:37:39
Ingredients
1 red delicious apple
1 empire apple
3tbsp butter
1-1/2tsp lemon juice
1/4tsp vanilla extract
1/2tsp ground cinnamon
1/4tsp ground nutmeg
4tbsp sugar
1/8tsp salt
1tbsp flour
Instructions
Preheat oven to 375 degrees Fahrenheit
Cut apples into 1/8" cubes and add to melted butter in nonstick saucepan
Add vanilla and lemon juice
Sprinkle with cinnamon, sugar, nutmeg and salt
Cook until the apples are soft and the sauce coats the back of a spoon
Add flour and cook until the sauce becomes thick
Cut the prepared pie dough into circles and add apple filling. For a 7" circle I used 2tbsp of filling, for 3-1/2" I used 1tbsp. Adjust as needed for the size circle that you use. Try not to over fill
Use a fork to tightly seal the edges together and place on a parchment lined baking sheet
Brush sealed pies with eggwash and bake for 25 minutes
Remove to cooling rack for 10 minutes and serve warm.
Only From Scratch https://www.onlyfromscratch.com/
Handpie dough
2014-10-19 11:01:14
Ingredients
2-1/2 cups unbleached bread flour
2 Tbsp. sugar
1/2 tsp. salt
1/4 tsp. cinnamon
1/8 tsp. nutmeg
8 Tbs. (1 sticks) cold unsalted butter, cut into 1/4-inch cubes
5 Tbs. very cold water
Instructions
Fit the stand mixer with the paddle attachment.
Stir together the flour, sugar, salt, cinnamon and nutmeg in the mixer bowl.
Add the butter and toss to coat.
Mix on medium-low speed until the texture resembles coarse cornmeal.
Add the water and mix on low speed just until the dough pulls together.
Transfer the dough to a work surface, pat into a ball and flatten into a disk. Dust the surface with flour and roll the dough out into a round about 1/8 inch thick.
Only From Scratch https://www.onlyfromscratch.com/