Doughnuts, who doesn't love them?  I know that they are pretty popular around our house.  I have written about them in the past; check out this post about baked chocolate  glazed doughnuts. In that post I had intended to buy a real doughnut pan, I finally did and it worked great! I have been craving blueberry cake doughnuts since the last time that I ate one.  I looked around and found a recipe that looked promising and set out to make them.  I checked the blueberry situation and noticed that the strawberries in the fridge were at the end of their useful lifespan.  I called an audible and grabbed the strawberries instead and used those in place of the blueberries.  As you can see in the picture below, the results turned out pretty well.  Check our our strawberry cake doughnut recipe below!
Strawberry cake doughnut recipe process:
If you have ever made a cake mix from a box, you are ready for this strawberry cake doughnut recipe.  All that you need to do is combine the dry ingredients, cut in some butter, combine the wet ingredients and then mix the two together and cook off in a doughnut pan. That's it, cake doughnut recipes are just that easy!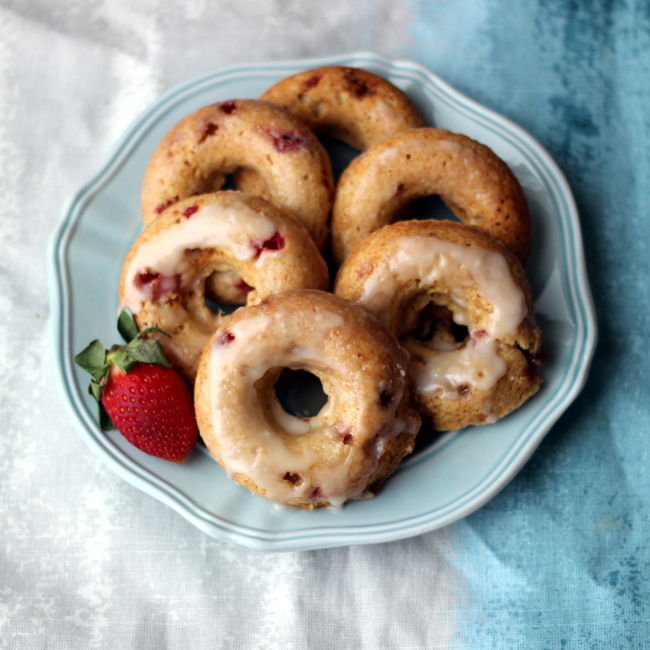 Tips and tricks:
This was the second attempt at making them; the first time I let our littlest one give me a hand and in the midst of that dad forgot to add the baking powder.  When I pulled them out it was pretty clear that something wasn't right.  I double checked the recipe and sure enough, I had not put the baking powder in.  The first set got assigned to compost duty.  I was undeterred, I gathered the ingredients and started again.  I am glad that I did because they tasted wonderful.  They are light and full of fresh strawberry flavor, Dunkin' could never make them so good.  And the best part is that they take very little time to complete, who knows – you probably have time to make two batches!
A note the recipe that I was using called for 1/2 tsp of nutmeg.  I found the nutmeg flavor to be too much, so I cut it down by one half.  If you really love a lot of nutmeg you can increase it.
Homemade strawberry cake doughnuts
Author:
Only From Scratch
Ingredients
1½ cups all purpose flour
1½ tsp baking powder
½ tsp salt
½ cup brown sugar
¼ tsp nutmeg
¼ cup butter
¼ cup chopped fresh strawberries
½ cup milk
1 egg
Icing
¾ cup confectioners sugar
1 tbsp vanilla extract
2-3 tbsp milk
Instructions
Preheat oven to 375 degrees Fahrenheit
Mix dry ingredients together. Cut cold butter into ½" cubes and use pastry cutter to cut butter in to the dry ingredients, should be about the size of peas. Mix milk and egg and add chopped strawberries.
Add the milk and egg mixture to the dry ingredients until just combined, use a wooden spoon or silicone spatula.
Either spoon or use a piping bag to put the mixture into a greased doughnut pan. Only fill half way to the top to yield 12 smaller doughnuts. For 6 larger doughnuts, use all of the dough for the six spaces in the pan and bake 2-3 minutes longer.
Cook for 12 minutes or until golden brown. Remove to cooling rack to cool. Cover with completed icing.
For Icing
Put confectioners sugar into bowl and add vanilla and slowly add the milk until the correct consistency is reached. It should be thin enough that it can be poured, but not too thin - the icing will not set up on the doughnuts.