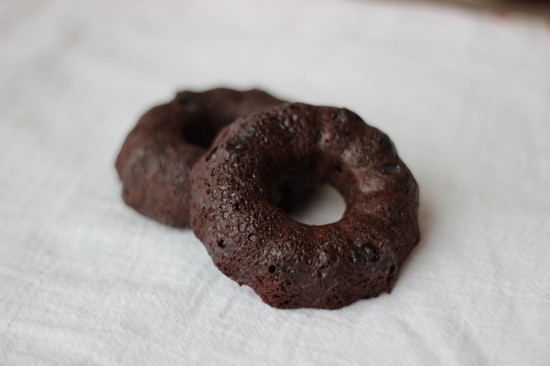 I don't eat a lot of donuts, normally. For some reason when I woke up this morning I really had a craving for them. Usually on these occasions I would have two options, go to one of the two Dunkin Donuts stores within a couple miles of the house, or to go to this great family owned bakery that is about 20 minutes away. The first option really doesn't jive with our current philosophy and I didn't feel like heading out to the bakery at 6:45 on a freezing cold morning.
Since we have been making all sorts of new things, I figured that I should at least look for a recipe before giving up. I quickly realized that any yeast based donuts would take too long and ruled them out immediately. Kelly is a big fan of a simple chocolate glazed doughnuts, so that is what I looked for. I noticed a recipe from Buns in My Oven in the search results. We have made a few of their recipes and have never let down, so I gave it a look. I couldn't be more pleased. They were easy, and even though I forgot to add the sugar and didn't realize until the batter was in the pan, they came out great. I just sprinkled the sugar into the batter in the pan and mixed as best as I could. I am sure that I added far less sugar than the recipe called for, but we like a good dark chocolate flavor around here, so no complaints. To help with the sugar situation, I started glazing them as soon as I got them out of the oven. That deliciously spongy cake absorbed the glaze quickly. Plus, by this time the rest of the family had arrived on the scene and weren't interested in waiting for anything to cool. Next time I will think ahead and leave enough time for them to cool and get a proper picture of them with proper glaze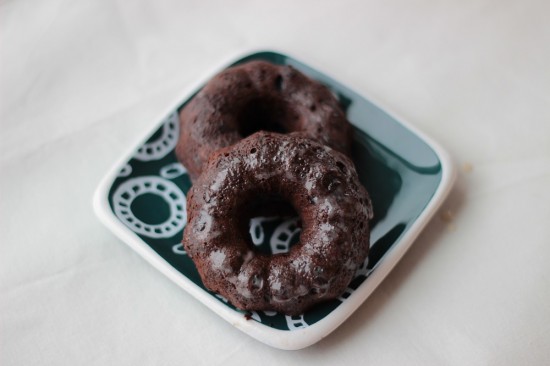 The recipe calls for a doughnut pan. I don't exactly have one of those, so I had to improvise. We ended up with a mini bundt pan when our local bakery supply store was closing down a couple years ago. It has never been used for any actual baking before today. It worked pretty well and gave the doughnuts a little extra style. The bundt pan is a little wide at the bottom so we ended up with only six doughnuts, so I ordered a couple of doughnut pans. I am looking forward to trying them out once they arrive!

Baked chocolate glazed doughnuts
2014-03-02 09:35:01
For the donuts
1 cup flour
1/2 cup sugar
1/4 cup cocoa powder
1/4 cup mini chocolate chips (optional)
1/2 teaspoon baking soda
1/2 teaspoon vanilla extract
1 egg
6 tablespoons sour cream
1/4 cup milk
1/4 cup vegetable oil
For the glaze
1 1/2 cups powdered sugar
6 tablespoons whole milk
1 teaspoon vanilla
Instructions
Preheat oven to 375
Mix all of the dry ingredients in one bowl
Mix all of the wet ingredients into another bowl
Add wet to dry and mix until combined. Do not over mix
Spoon batter into well a well greased doughnut pan
Bake for 8 minutes
While baking, mix glaze ingredients together
Remove doughnuts from pan and place on a cooling rack on a baking sheet
Allow to cool and spoon glaze over the doughnuts and allow glaze to set
Adapted from Buns in my Oven
Only From Scratch https://www.onlyfromscratch.com/