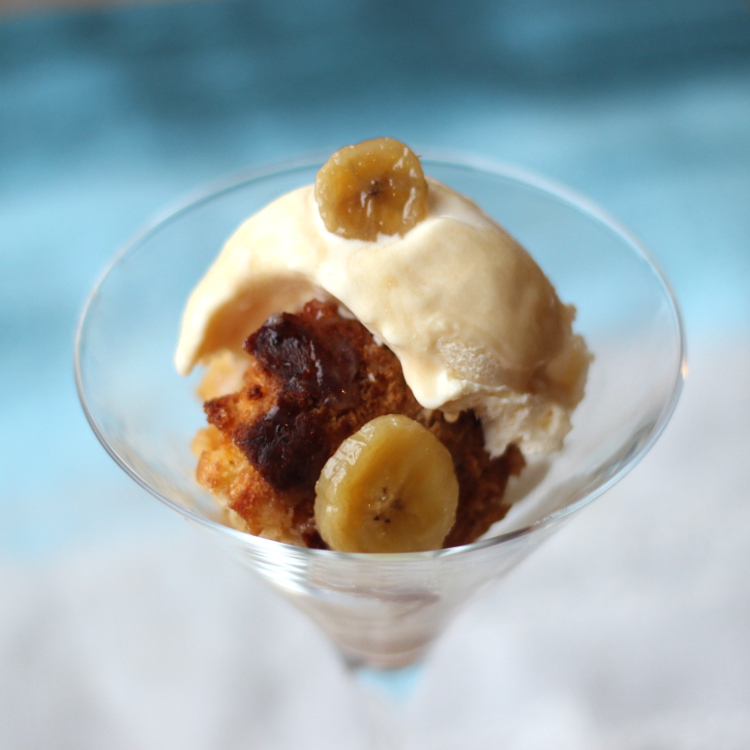 Is there a restaurant out there that you have been to a bunch of times, but not frequently? One example of this is the Ohana restaurant at the Polynesian Resort in Disney World.  Our first experience with Ohana was during our honeymoon and have gone back every chance we could get.  It's the Disney take on a Polynesian themed Brazilian steakhouse.  The wait staff walk around with skewers of meat, great things like steak, pork, sausage, turkey (at that time, became chicken later on) and shrimp.  Eat as much as you want, and don't fill up on the great bread that they bring at the beginning of the meal.
Our first trip, the meal ended with a quarter of pineapple with a tasty caramel sauce.  It was the perfect end to the meal.  Or so we thought, a few trips later we learned that there was no more pineapple with caramel to end the meal.  How can this be – why would they do this to us?  It was one of the best parts of the meal.  We enjoyed the meal as usual and the waiter shows up with a dish full of bananas foster bread pudding with just melty enough vanilla ice cream and a rum-caramel sauce.  It was as this time I pretty much forgot about the pineapple dessert.  This was the perfect way to end the event-meal that we have at Ohana.
The best part of this dessert, it's a great use for bread that has gone stale.  But, don't be surprised if you make bread just for the purposes of this recipe.  It is that good.  Over the years we have tried a few different types of bread in this recipe: french, challah and most recently brioche.  We find the brioche to be the perfect one to use!  Another fun fact about this recipe:  you get to flambe!  This is a great recipe to make for family and friends when you can cook it right in front of them and show off your flambe skills.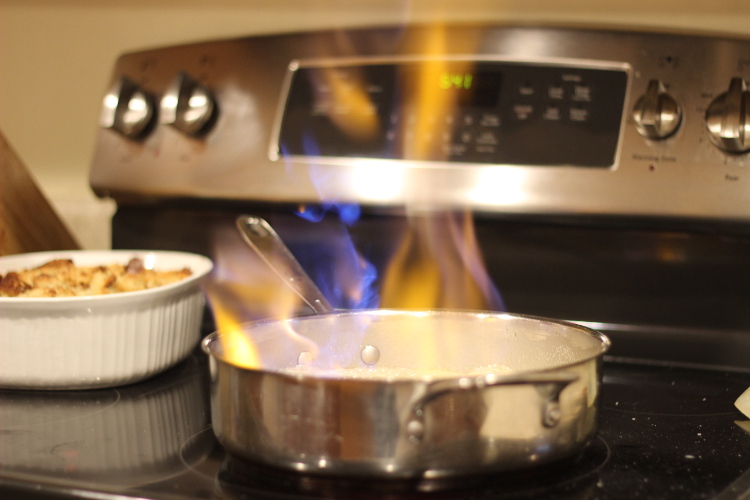 Bananas foster bread pudding recipe below:
Bananas foster bread pudding
Author:
Only From Scratch
Ingredients
* Bread Pudding
5 eggs
3 cups whole milk
½ tsp salt
½ tsp nutmeg
1½ cup sugar
8 cups brioche bread
*Bananas foster sauce
4oz sugar
4oz brown sugar
4oz corn syrup
4 oz unsalted butter
1 cup heavy cream
1tsp vanilla extract
1 cup spiced rum
1 cup banana slices
Instructions
*Bread Pudding
Cut bread into 2 inch cubes and place on a sheet tray and bake at 350 for 15 minutes, or until browned
Mix eggs, milk, salt, sugar and nutmeg in a large bowl
Add toasted bread cubes into the egg mixture and gently mix to combine
Pour mixture into a buttered casserole dish and bake for 1 hour at 325
Rest bread pudding for 5-10 minutes and serve with vanilla ice cream and Bananas Foster sauce
* Bananas Foster Sauce
Combine both sugars, corn syrup, butter and half of the heavy cream in a large shallow pan. Bring to a boil and slowly add the rest of the heavy cream while keeping the mixture at a brisk boil
Add rum and flambe until the alcohol burns off
The sugar mixture will brown slightly, cook for an additional 3 minutes until the mixture begins to solidify
Remove from heat and add vanilla and sliced bananas