This recipe is one that really brings back a part of my childhood.  When I was young my grandmother would always make lemon meringue pie.  When I was old enough to help out, she taught me the tricks to making a great pie.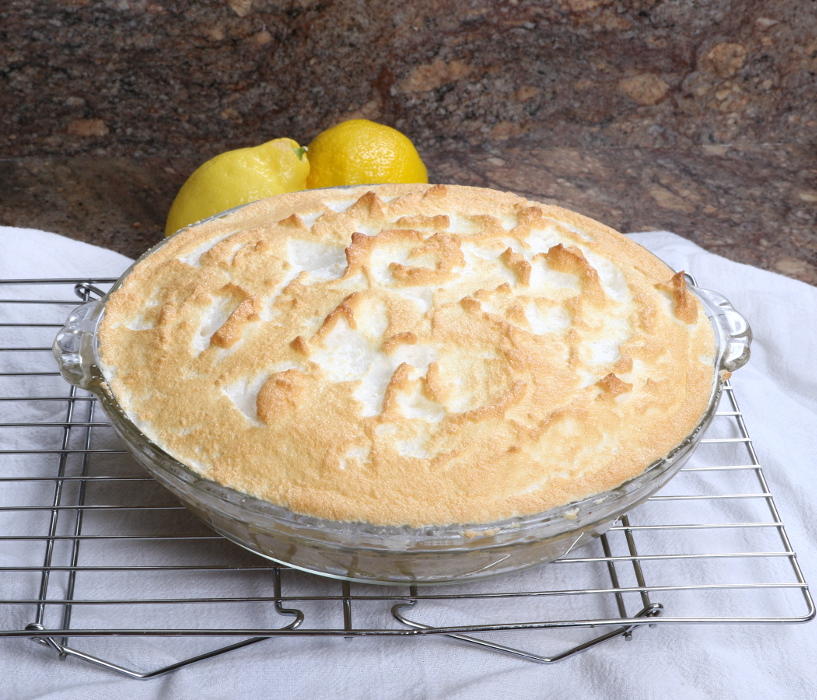 There are three  main components to making a great lemon meringue pie: great crust, delicious lemon curd filling and light and airy meringue.  Once you master all three, your pie will become legendary.
Starting with the crust, it needs to be perfectly flaky and crispy to hold up to lemon curd filling.  That brings us to the filling, the lemon curd be the perfect mix of sweet and tart and should not be too wet or too dry. Lastly the meringue needs to be light and fluffy and able to hold its shape when used to top the pie.  I find that using our Kitchen Aid Mixer saves a lot of hassle when whipping the egg whites for the meringue.
Lemon meringue pie tips and tricks:
Preparation is key when making lemon meringue pie.  Be sure to have all of your ingredients handy and you will have no trouble putting together this delicious pie.  A couple of tips:  zest and squeeze the juice from your lemons and separate the eggs before you start.  I have more than once forgotten the lemon juice and had it mix it into the pie when it was in the crust.  The pies ended up being good, but it was not the same as cooking the lemon juice into the curd as instructed.  Like I said, be prepared.  The recipe is not difficult, just follow the directions and it will turn out great.

Lemon meringue pie
Author:
Only From Scratch
Ingredients
Crust:
1½ cups all purpose flour
1 tbsp sugar
¼ tsp salt
1 sticks of butter cut into ½" cubes
4 tbsp very cold water
Filling:
4 egg yolks (reserve whites for meringue)
⅓ cup corn starch
1½ cup water
1⅓ cup sugar
¼ tsp salt
3 tbsp butter
½ cup lemon juice (about two large lemons)
Zest from two lemons microplaned or fine grated
Meringue:
4 egg whites
¼ tsp cream of tartar
2 tbsp sugar
Instructions
Preheat oven to 375 degrees Fahrenheit
Crust:
Add dry ingredients to bowl of a stand mixer and combine well
Add cubed butter to bowl and mix with your hands to coat butter cubes with flour mixture
Mix on medium speed with the paddle attachment until the butter and flour are mixed and butter chunks are about the size of peas.
Slowly add water a little bit at a time until the dough starts to come together. Dough should still be loose until pressed together.
Pour dough mixture out onto the counter and press together to form a disc.
Wrap disc in plastic wrap and refrigerate for 30 minutes
Roll out to fit into a 9 inch pie plate
Press dough into pie plate and poke bottom with a fork and cover with parchment paper filled with beans, rice or pie weights and blind bake for 15 minutes
Filling:
Separate the yolks from the whites of the eggs and place in separate bowls
Use a microplane or small grater to remove the zest from two lemons
Cut the lemons in half and juice them - you will need ½ cup - set aside
Add sugar, corn starch, salt and water to a saucepan and cook on medium heat, bring to a boil and cook for one minute once boiling
Add cooked sugar mixture to eggs about 1 tsp at a time and wisk. Repeat until about half of the sugar mixture is mixed into the eggs and then add the egg mixture to sugar mixture and whisk until completely mixed.
Bring to a boil and cook for one minute and remove from the heat
Add the lemon juice, lemon zest and butter into the egg and sugar mixture and whisk until combined.
Add to the pie crust and start the meringue
Meringue:
Add egg whites and cream of tartar to bowl of stand mixer and mix on medium-high until soft peaks form
Gradually add sugar to egg whites until all have been incorporated
Continue mixing until stiff peaks form
Cover the filling with the meringue - be sure to get it all the way to the crust leaving no gaps.
Form meringue into your desired appearance - commonly pulled into peaks or smooth
Bake for 10-15 minutes to brown the meringue. Keep a close eye on it to ensure it doesn't burn.
Allow 2-3 hours for the pie to completely cool before cutting