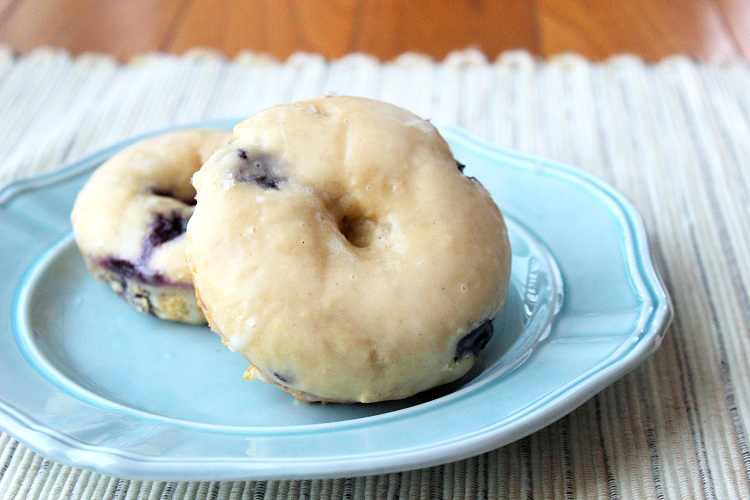 Our youngest daughter has a new, unhealthy obsession with donuts.  For the last few weeks, she starts begging for donuts as soon as she wakes up.  While we do have a Dunkin' Donuts within walking distance of our house, their donuts are typically stale and leave me a with tummy ache. So while my child was rolling around on the floor clamoring for us to go to the store, I opened up the refrigerator and decided to turn the last of our blueberries into delicious breakfast treats using this easy, quick glazed blueberry cake donuts recipe.
These donuts were very easy and took about a half an hour from start to finish (which is very important when you have a child in near melt down).  Initially, she promised to reject these delightful little treats because they were not what she wanted. However, once those warm, fluffy donuts emerged from the oven and were coated with an irresistible, sugary glaze, the child could resist them no more. 
Tips and Trick for Glazed Blueberry Cake Donuts
Make sure that your fruit is dried well so that they do not introduce extra moisture into your batter
Even though I used a nonstick pan and greased the pan, these still stuck a little bit.  Be sure to loosen the donuts carefully before trying to remove from the pan.
Eric suggests transferring the batter into a piping bag and piping the batter into the tray to reduce mess.  I did not do this and was able to contain the mess, but it wasn't easy.
Quick Glazed Blueberry Cake Donuts Recipe
Author:
Only From Scratch
Ingredients
1 cup flour
⅓ granulated sugar
1 teaspoon baking powder
¼ teaspoon cinnamon
¼ teaspoon nutmeg
1 teaspoon salt
⅓ cup milk with one teaspoon lemon juice added
1 egg
1 teaspoon vanilla
½ cup fresh blueberries
For Glaze:
1½ cup powdered sugar
¼ cup milk
1 teaspoon vanilla extract
Instructions
Preheat your oven to 325 degrees F.
Grease the donut pan (do not skip this step!)
In a large bowl, combine the dry ingredients (flour, sugar, baking powder, nutmeg, cinnamon and salt).
In another bowl, whisk milk, egg, oil and vanilla. Add this to the dry ingredients and mix well.
Add the blueberries.
Fill the donut pan with batter and cook at 325F for 10-14 minutes or until cooked through.
Remove from the oven, carefully loosen each donut and transfer to wire rack to cool.
While the donuts are cooling, make the glaze. In a small bowl, combine powdered sugar, milk and vanilla and whisk until combined.
Once the donuts are cooled, dip the tops of the donuts in the glaze and allow to cool on the wire rack.