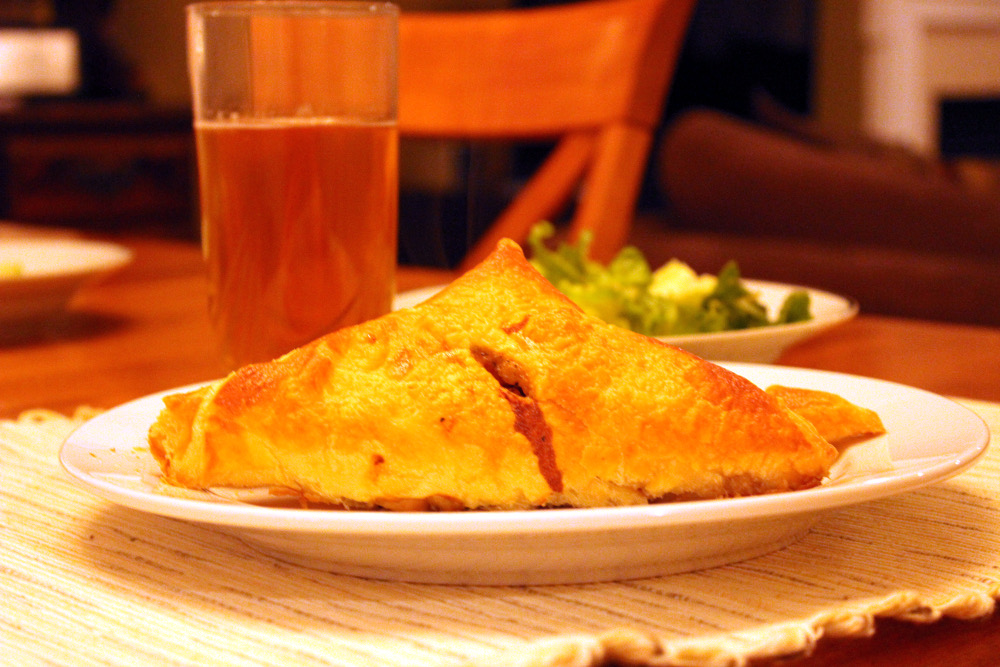 Our kids appreciate fresh, homemade meals and often accept even the most spicy, weird looking, strange smelling and colorful food that we throw at them.  Every now and then I do try to send a meal their way that is nutritious, delicious and fun.  These easy chicken pot pie turnovers made with puff pastry dough turns a classic, winter meal into a fun, vegetable packed, homemade version of hot pockets that both of my kids were excited to try.
The inspiration for this recipe came after I flipped through a recent Food Network magazine and saw these cute little puff pastry triangles stuffed with comfort food.  The preparation of this meal does not take long but overall it did take close to 90 minutes when you factor in the baking time.  The kids really enjoyed the novelty of this meal but I prefer the my pot pie covered up by our homemade pie crust.
Tips and Tricks for Chicken Pot Pie Turnovers
Don't forget to take your puff pastry out of the freezer while you prepare your turnover filling. Pay attention to the recommendations on the puff pastry because it if sets out too long it can become very sticky and difficult to work with.
Change it up with your favorite vegetables.  This is just a simple base recipe. Don't be afraid to experiment with adding different fillings like broccoli, mushrooms, ham, peppers and different seasonings. 
For extra flavor, season the tops of your turnovers with your favorite spices or a sprinkle of salt after you brush the dough with your egg wash. 
I cannot stress enough…wait at least 15 minutes before you dive in! These are molten lava on the inside. 
I find the store bought puff pastry dough to be bland and disappointing. This seems like something that should be very complex to make.  I believe that I will put it on my list of things to make since after reading through this puff pastry recipe, it doesn't really look that hard. 
Easy Chicken Pot Pie Turnovers With Puff Pastry Dough Recipe
Author:
Only From Scratch
Ingredients
1 Tablespoon olive oil
2 Tablespoons butter
½ onion, chopped
2 carrots, diced
1 stalk celery, chopped
2 cloves minced garlic
1 Tablespoon all purpose flour
½ teaspoon Italian seasoning
½ cup white wine
1 cup of chicken broth
1 teaspoon of better than bouillon, chicken
½ cup frozen corn
1½ cup cooked chicken, cut into bite sized pieces
1 sheet puff pastry, thawed
1 egg, beaten
Instructions
Take puff pastry dough out of freezer and allow to warm up for approximately 30 minutes
Preheat oven to 375F
Add oil and butter to deep saute pan and melt butter over medium heat. Saute onions, carrots and celery until the vegetables begin to soften.
Add minced garlic and Italian seasoning and cook for 30 seconds.
Sprinkle flour in and mix well. Allow mixture to cook for approximately 1 minute.
Increase heat to medium high and deglaze pan with white wine. The alcohol will cook off quickly and then you may add one cup of chicken stock. Allow mixture to thicken (5-10 minutes).
Season with pepper and better than bouillon and mix well. Season with addition salt and pepper as needed to taste.
Add frozen corn and chicken and heat through.
Cut the puff pastry dough into 4 equal parts. On a floured surface roll each square out until it is slightly larger and then place on a cookie sheet.
Carefully spoon filling into the center of each dough. Fold the dough on the diagonal. Brush the edges with water and pinch the edges to seal. Cut a slit in the top of each one so that steam may vent.
Brush the tops with egg. Season with garlic powder or salt if desired.
Bake the turnovers at 375F for 30 minutes, or until golden brown. Allow to set 15 minutes before serving.