Winters in Upstate NY have a tendency to be cold.  So far this year we have not had much in the way of extreme cold or snowy weather, but it still get me in the winter eating frame of mind.  When its cold like this, I am looking for comfort foods combat the cold and an Italian Wedding soup recipe always does the trick.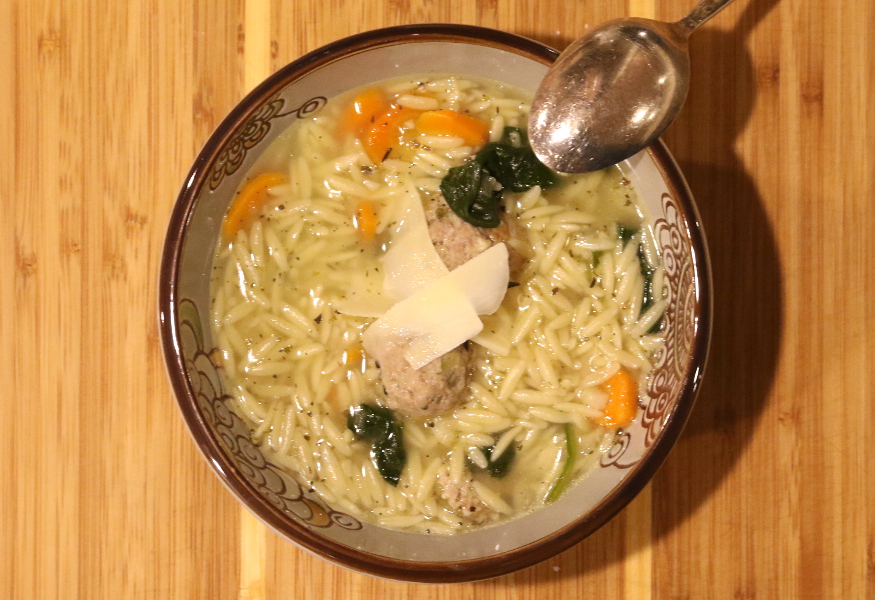 I love almost all comfort foods and this Italian Wedding soup recipe is no exception.  Since it's still early in the year and my goals to eat healthier are still in effect it's a plus that it is lighter than a traditional Italian Wedding soup recipe. We use ground turkey in place of ground sausage to cut down on fat while retaining a great deal of flavor!
Recipe details
The meatballs in this dish use the traditional method of soaking stale bread in milk as the filler which results in wonderfully tender meatballs.  It also gives you the chance to minimize waste by using stale bread that might normally go to waste.  I like to use our homemade white bread recipe because it is sturdy enough to hold up to the milk, but not so dense that it makes the meatballs dense because the key to a terrific Italian Wedding soup recipe is great meatballs.  Add to that some good chicken stock, some fresh vegetables, herbs and spices and you have a winter defeating meal in about an hour.
Italian wedding soup recipe tips and tricks:
The meatball portion of this recipe is enough for about 40 small meatballs.  I tend to freeze half of them and use the second half for a super quick meal on another night where we might not have as much time as it would take to cook this from start to finish.
Italian Wedding Soup Recipe with Turkey Meatballs
Author:
Only From Scratch
Ingredients
3 slices of white bread
½ cup milk
1 egg
2-1/2 tbsp of grated Parmesan, Romano and Asiago cheese blend
salt and pepper to taste
½ tsp dried parsley
½ cup grated fresh onion
3 tbsp olive oil
1 cup diced onion
2 carrots sliced thin
3 cloves garlic
1 pinch red pepper flake (more or less to taste)
½ tsp dried basil
½ tsp dried oregano
½ tsp dried parsley
2-1/2 quarts chicken stock
2 cups fresh spinach
1 cup orzo - more or less to taste
Salt and pepper to taste
Instructions
In a large bowl combine milk, salt, pepper and egg until incorporated.
Add cubed bread and allow to absorb completely.
Add parsley, grated onion, cheeses and ground turkey and gently mix until well combined.
Remove the mixture in heaping tablespoons and roll in the palms of your hand until the meatballs are round in shape. Repeat for remaining meat mixture. You can do this ahead of time and keep in the refrigerator until they are needed. If you want a soup with lots of meatballs you can use all of them, or set meatballs on a sheet pan in the freezer and then transfer to a freezer safe bag once frozen for another time.
Add olive oil to a medium soup pot and sauté the onion and carrots until the onions are translucent.
Add garlic and pepper flake, dried herbs; stir and cook for 30 seconds being sure not to burn the garlic or herbs.
Add stock and bring to a simmer.
Add meatballs and cook for 25 minutes.
Add spinach and stir it in until wilted.
Add orzo and cook until al dente, about 6-8 minutes.
Taste soup and add any desired additional salt and pepper
Serve with grated Parmesan cheese.