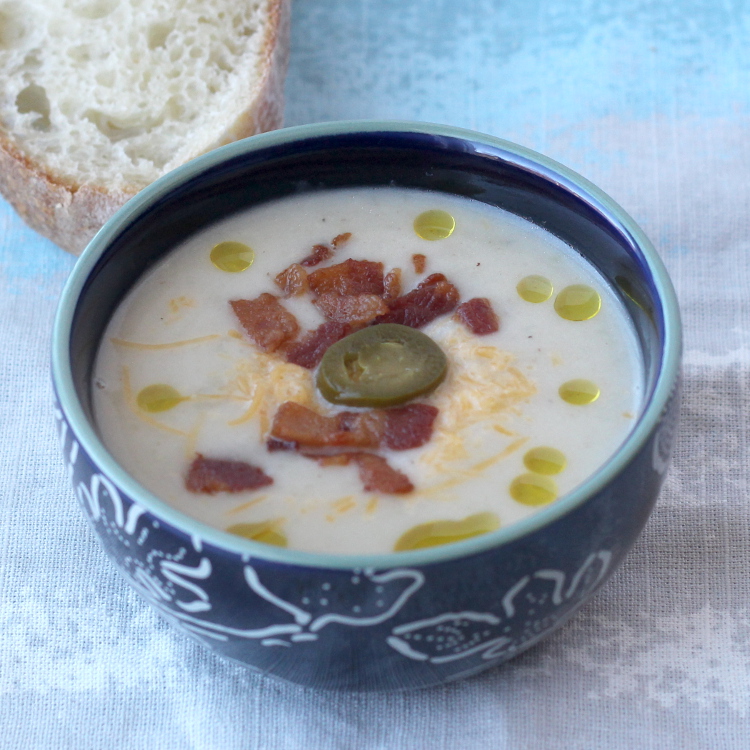 Lately I have been branching out on my bread making, moving on from easier everyday bread recipes to more involved or complex processes.  Last week I made brioche and this week I wanted to try ciabatta.  I have been wanting to make ciabatta for quite some time now as it is one of my favorite types of bread.  I have even looked at it a few times and as soon as I saw the starter dough part of the recipe I would move on to something else.  It's not that it was exceptionally hard or anything, to me a starter means that its going to take a long time.  Yesterday I finally pushed through and made my ciabatta and it was great.  Today I needed something to eat along with it, homemade potato soup it is.
How could a cold winter Sunday lunch be any better than creamy potato soup.  This one has just the right amount of heat from the added pickled jalapenos and silkiness from the potatoes to finish it off.  best of all, it really didn't take too long to cook, maybe 45 minutes.
The recipe calls for you to blend the soup until smooth.  We have an immersion blender and I think that works best, but you can transfer the soup to a stand up blender and do it in smaller batches.  Just be careful, don't fill it more than 3/4 of the way and cover the top with a kitchen towel. Once blended return to the soup pot and finish things off.  We hold back some of the potato cubes to retain some chunkiness to soup.  You may not want that, and if not you can just blend all of the potatoes. 
Whether you want it chunky or not, you cannot go wrong with homemade potato soup.
Check out the recipe for homemade potato soup below:
Homemade potato soup
Author:
Only From Scratch
Ingredients
6 strips bacon cut into ½" pieces (reserve rendered fat)
1 diced onion
5 ribs of celery cut in half and chopped
5 cups russet potato cut into ¾" cubes
32oz vegetable stock
½ cup heavy cream
¼ cup pickled jalapenos chopped fine
Salt and pepper to taste
shredded cheese for garnish
extra virgin olive oil for garnish
Instructions
Cut the 6 strips of bacon into ½" strips and place into a heavy bottom soup pot and cook until crispy
Using a slotted spoon to remove crisp bacon and pour rendered fat into a small heatproof dish
Put 2tbsp of the reserved bacon fat back into the pot and add the diced onion and cook for 3-4 minutes
Add celery and cook for 4-5 minutes
Add 2tbsp more bacon fat and add the cubed potatoes and cook for 5 minutes
Pour in vegetable stock, cover and bring to a boil, reduce to a simmer and cook for 15 minutes or until the potatoes are cooked through
Remove ⅓ of the potatoes and stock and set aside
Use an immersion blender to blend the potatoes and stock in the pot until smooth
Add heavy cream, chopped jalapenos and set aside potatoes and mix together until combined
Add salt and pepper to taste and serve immediately garnished with crisp bacon, shredded cheese and drops of extra virgin olive oil. Add a slice of pickled jalapeno if you like it spicy