I think that I am going to call this my 'I don't think that this winter will ever end' tomato soup. Winter not ending isn't such a great thing, but this soup is pretty darn good. I just kind of winged this one. I was hungry for some lunch and we didn't have a lot of lunch-types of food in the house. I looked around the fridge and saw that we had some left over crushed tomatoes and chicken stock. About 3/4 of each container. I started thinking about tomato soup.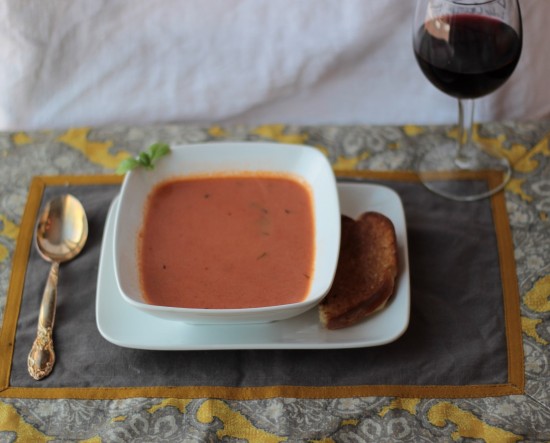 I have always loved tomato soup, even that horrible red and white can of "glop" as Kelly calls it. I figured that with the ingredients that I had on hand, I couldn't possibly do worse than the can. About 20 minutes later I found that I making great tomato soup is quick and easy to do.
To the leftover tomatoes and stock I added some heavy cream, Cabernet Savignon, fresh thyme, garlic, butter and basil. Season with some salt and pepper and you have got a very versatile soup that even our three year old loved.
Creamy Tomato Soup
2014-03-23 15:00:35
Ingredients
1/2tbsp butter
1 clove minced garlic
4 sprigs fresh thyme removed from stems
1/8 cup Cabernet Savignion
1 28oz can of crushed tomatoes
1 32oz chicken stock
1/2 cup heavy cream
8-10 chopped fresh basil leaves
Salt and pepper to taste
Instructions
Melt butter in 3qt pot
Add garlic and thyme and cook for 1 minute
Add wine and cook for 30 seconds
Pour in tomatoes and chicken stock and bring to a boil
Lower heat to a simmer and cook for 10 minutes
pour in cream and return to a simmer
Add basil and salt and pepper to taste
Only From Scratch https://www.onlyfromscratch.com/