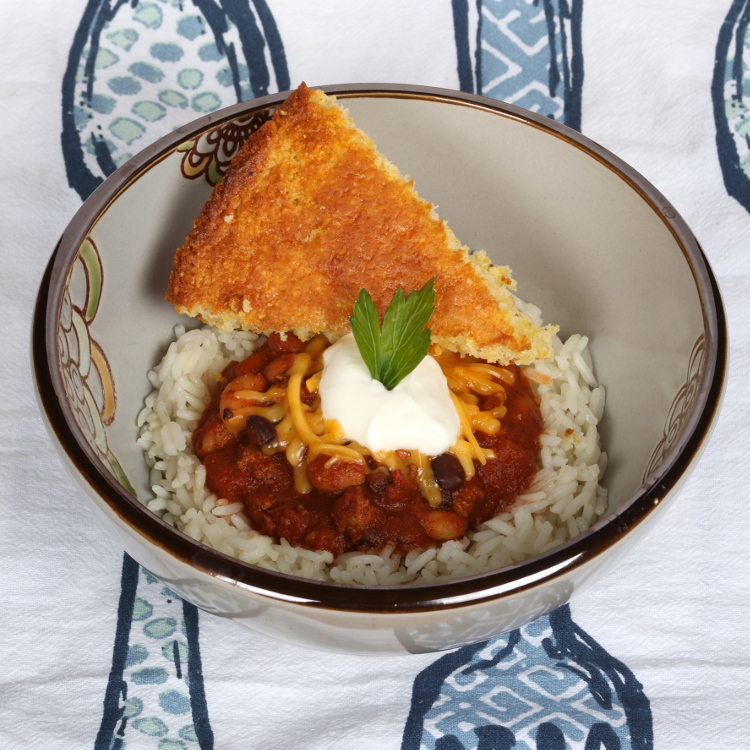 Today the thermometer is reading below zero not even counting the wind chill!  On a day like today, when the grocery supply is getting pretty grim, I am forced to get creative or go to the store. Go out in this cold? Not a chance! A quick trip to the pantry and it's this three bean turkey chili recipe to the rescue.
Three Bean Turkey Chili Tips and Tricks
This meal can be made in a large stock pot on the stove and can simmer all afternoon if you desire.  You could also enjoy after a long day of work by using your slow cooker.  Just don't add the beans until you are almost ready to serve.
We choose Great Northern, black and pinto beans tonight but in the past we have used a mixture of kidney and black beans.  Choose your favorite mix.
Ground beef can be substituted for the turkey if that is your preference.  We have done both and I do not notice a significant difference between the two in this chili recipe.  I like the health benefits of using turkey for this meal. There is a definite difference in the amount of grease seen in the pan!
This recipe reflects my family's taste. We do like spicy food, but my youngest isn't as tolerant of the heat.  This blend of spices had enough heat to satisfy everyone without scaring her away.  Adjust the spices to your taste or add a sprinkle of cayenne pepper to dial up the heat.
Serve it in a bowl, over rice or however you like it but do seriously consider pairing it with sweet cornbread.
Three Bean Turkey Chili Recipe
Author:
Only From Scratch
Ingredients
2 tablespoons olive oil
1 pound ground turkey
1 yellow onion, diced
1 clove garlic, minced
2 cans (14.5 oz) diced tomatoes with chiles
24 ounces tomato puree
1 cup chicken stock
1 can white Great Northern Beans
1 can black beans
1 can pinto beans
2½ tablespoons chili powder
1 tablespoon cumin
1 teaspoon salt, more to taste as needed
1 teaspoon sugar
2 teaspoons cocoa powder
½ teaspoon ground coriander
pepper to taste
Instructions
Heat olive oil over medium heat in a large stock pot. Sauté onions until softened. Add garlic and cook for 30 seconds, or until fragrant.
Add ground turkey and heat until cooked through.
Add diced tomatoes and tomato puree.
Season with chili powder, cumin, cocoa powder, sugar, coriander, salt and pepper.
Add chicken stock to desired consistency and allow to cook over low heat for 30 minutes (or more if desired).
minutes before you are ready to serve your chili, add beans (drained and rinsed) and cook until hot.
Serve over rice or without. Top with cheese, sour cream and chives if desired.