Over the last few years, we have managed to ruin trips to almost any restaurant by coming home and using their food as inspiration to make it better (and cheaper) at home.  What we are left with is an ever shrinking list of places to go out to eat.  Recently, we went out for sliders and tried fried avocado slices as an appetizer.  Everyone was blown away.  The next logical step was to try it ourselves at home.  We ended up with these baked avocado fries.  They taste just as good (hubby says they taste better) and should be healthier because they are baked, not fried.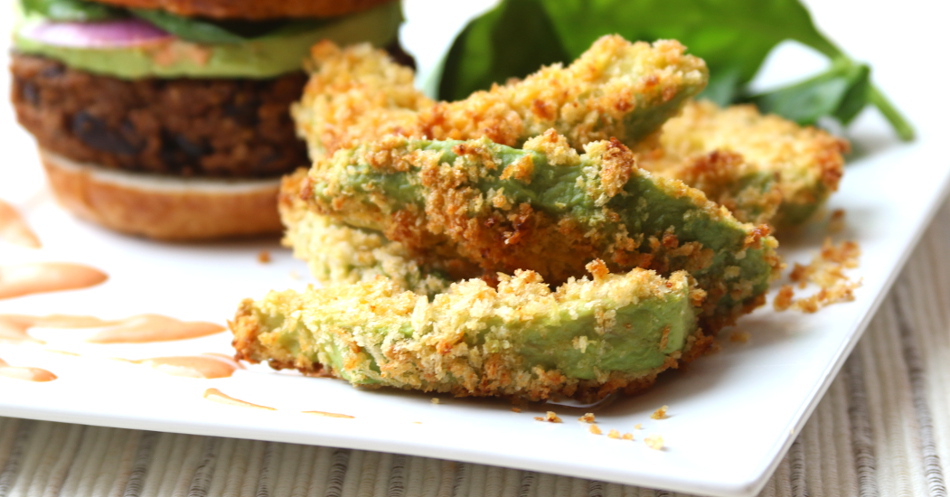 I am not a fan of deep frying since the hot oil seems to always spit in my face.  I decided to try to bake the avocado fries in an attempt to save my vision and cut down on the cursing in the kitchen today. These avocado slices did not disappoint.  Baked at 450 degrees and generously coated with organic canola oil cooking spray, these turned out just as crispy and delicious as their fried counterparts.  Our secret is to place the breaded avocado slices on a wire rack on a sheet pan.  This allows for the hot air in the oven to evenly cook the fries. 
They were perfectly seasoned and had just the right amount of crunch to compliment the soft, buttery middle.  For a little extra kick, I whipped up a Sriracha mayo dipping sauce.  I did my best on the measurements below but to be honest, I simply added Sriracha until my dipping sauce had a rich orange color which equates to just the right amount of heat for me. Dial it up or dial it down to your desired level of heat.
These baked avocado fries paired beautifully with our black bean veggie burgers that I shaped into sliders and topped with lettuce, avocado slices and Sriracha mayo on a homemade pretzel roll.  Serve these baked avocado fries to your friends at your next gathering and show them that avocados can do more than guacamole!
Baked Avocado Fries Recipe with Homemade Sriracha Mayo
Author:
Only From Scratch
Ingredients
3 ripe avocados
2 eggs, beaten
1½ cup panko
2 Tablespoons melted butter
1 teaspoon garlic powder
½ teaspoon paprika
¼ teaspoon pepper
½ teaspoon salt
½ cup mayonnaise
1-3 Tablespoons Sriracha (to taste)
1 tablespoon lemon juice
Instructions
Preheat oven to 450F. Prepare a baking sheet by placing a wire rack on the sheet and spray with cooking spray.
Slice avocado lengthwise
In a shallow bowl, beat eggs with a small amount of water and set aside
In a second bowl combine the panko bread crumbs with melted butter. Season the mixture with garlic powder, paprika, salt and pepper.
Dip sliced avocado in the egg mixture and gentle roll in the seasoned panko. For a thicker coating, repeat this step.
Place each slice on the prepared wire rack. Once all slices are complete, spray them with cooking spray and bake for 20 minutes, or until crispy.
For sriracha mayo dipping sauce, whisk mayonnaise, lemon juice and sriracha to desired level of heat.