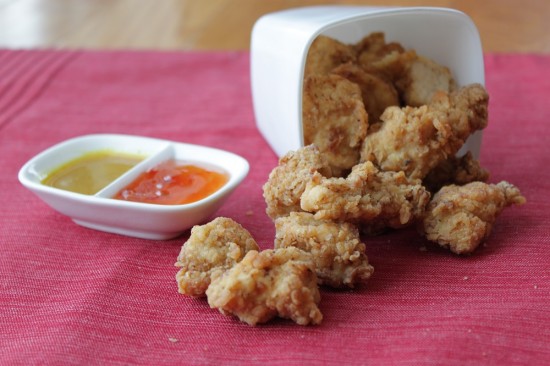 I got home from work today and checked the weekly recipe page and found that we were scheduled to have some chipotle popcorn chicken. I look in all of our usual places and I am not finding the recipe anywhere. Next, I do a quick google search and find a couple references to the same recipe. The challenge is that we don't have any buttermilk in the house. We are just breading and frying a popcorn chicken recipe, can't be too hard. Right? Oh, and we only have one egg. So I toss the egg in a mixing bowl, toss in some milk to get it to go farther. Now it's too thin. I see some sour cream sitting there in the fridge. That probably won't make it worse, so I put a couple spoonfuls of that in and whisk it all together.
I didn't want to go right into the chicken, but I wanted to try out this new breading method that I just threw together. I like onion rings so I cut up an onion and bread that and fry them off in the heated peanut oil that has been patiently waiting for me. They don't take long to cook and I try one after they cooled for a few seconds. Score, they taste great. I finish cooking off the onions and cut up the chicken into bite sized pieces and fry away. Everyone loved them.
Popcorn chicken recipe tips and tricks:
Use peanut oil. It has a higher burn point and allows you to get a beautiful golden brown color that tastes great.
Popcorn chicken
2014-02-07 22:15:05
Ingredients
1 Egg
1/4 cup milk
3 tbsp sour cream
1/2 tsp - 1tsp cayenne pepper sauce
1-1/2 cup bread flour
1 tsp kosher salt
1/4 tsp ground black pepper
1/2 tsp garlic powder
1-1/2 lb chicken breast
Peanut oil for frying
Instructions
Mix egg, milk and sour cream in a mixing bowl - add additional salt and pepper if desired
Mix flour, salt, pepper and garlic powder in a shallow dish
Cut chicken into bite sized pieces and coat with egg mixture
Dredge coated chicken in flour mixture and fry in peanut oil - cook in about three batches to keep oil from cooling too much.
Cook until golden brown, about 5 minutes turning halfway through
Remove from oil and place on a baking sheet with paper towels and sprinkle with salt
Only From Scratch https://www.onlyfromscratch.com/