We have been on a pretty good Asian food kick for the past week or so, for example, last Friday was sweet and sour chicken!  Tonight we had ground chicken pot stickers with a tasty spicy chili/soy dipping sauce.  I thought my better half had left me a recipe to make dinner when I got home, but I could not find it.  I decided to try to wing it.  I know that she had bought green onions for the meal, so I started by chopping up two of those.   minced ginger and of course garlic would need to find there way in there as well as some mirin, sesame oil and soy sauce.  Things might have gotten a little out of hand with the soy sauce so I put in some honey to balance that out.  added in my ground chicken and gave it a good mix and started forming the ground chicken pot stickers.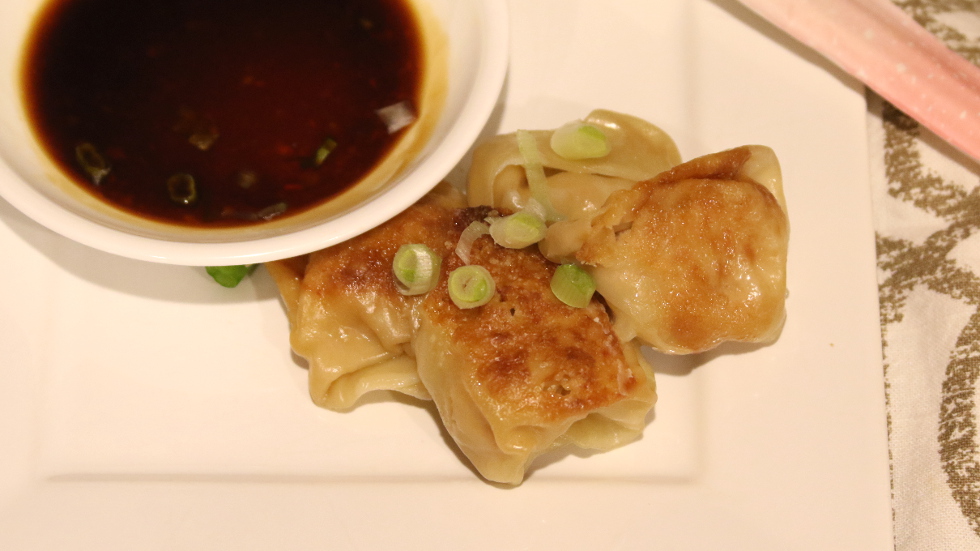 The dipping sauce is something else that I started throwing together when we had Asian food.  It's pretty simple, chopped green onion, soy sauce and sweet Thai chili sauce.  Mix soy sauce and Thai chili sauce in a one to one ratio and add the chopped green onion.  Give that a good mix and you are ready to dip some the pot stickers!
Ground chicken pot stickers tips and tricks
It is very important to not allow the won ton wrappers to dry out.  If they dry out before you can add the filling and fold them, you will have trouble with the wrappers cracking.  It's amazing how quickly they dry out.  I use two damp paper towels to cover the unused wrappers while I am filling and folding.  I usually take out two at a time.  Start by brushing two of the adjacent sides with water and put a small amount of filling in the middle.  Fold the opposing points towards each other and press to seal along the seams on the two sides.  Next overlap the bottom corners and pinch them together. 
I have learned that if you add too much filling it makes it very difficult to close them all the way and the filling will expand when it cooks and they will come apart. 
Ground chicken pot stickers with dipping sauce
Author:
Only From Scratch
Ingredients
1 lb ground chicken
4 cloves minced garlic
¼ tsp minced ginger
2 chopped green onions
pinch of dried chili flake (if desired)
1 tsp mirin or rice wine vinegar
2 tbsp soy sauce
1 tbsp sesame oil
2 tsp honey
Water for cooking
1 package prepared wonton wrappers
For the sauce
¼ cup soy sauce
¼ cup sweet Thai chili sauce
1 chopped green onion
Instructions
Mix the honey, sesame oil, soy sauce, mirin, chili flake, green onion, ginger and garlic until well combined.
Add chicken and mix well
Add a bit less than a teaspoon of filling to the wonton and fold according to the directions on the package. Set aside under a damp paper towel. Repeat until you have used all of the filling.
Heat pan to medium heat and add 3 tablespoon of coconut (or peanut or any other light high temperature oil) oil and add the pot stickers to the pan and cook until golden brown. If you have a good amount of oil and keep moving the pan it will help prevent them from sticking to the pan.
Once golden brown add water until there is about ¼" of water in the pan and cover. Moving the pan around again will help prevent them from sticking.
Cook until all of the water is gone, about 5-6 minutes.
For the sauce, Whisk all ingredients together and serve in a small dipping bowl with pot stickers.