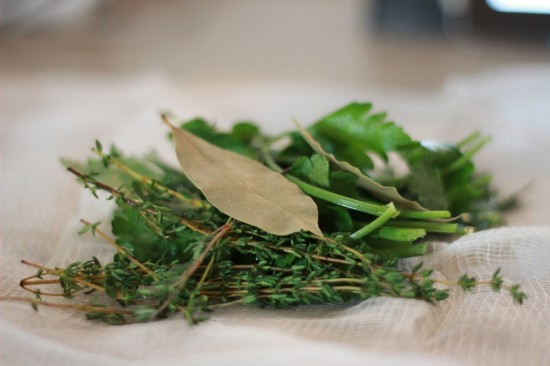 This little bundle of joy is the secret to awesome soup. Fresh thyme, parsley and bay leaves wrapped in cheesecloth simmer quietly in chicken broth to flavor your soup with the perfect seasoning blend. Add cream, dry sherry and wild rice and you have a chicken soup that is so good that you'll wish illness upon yourself just so you have an excuse to eat it!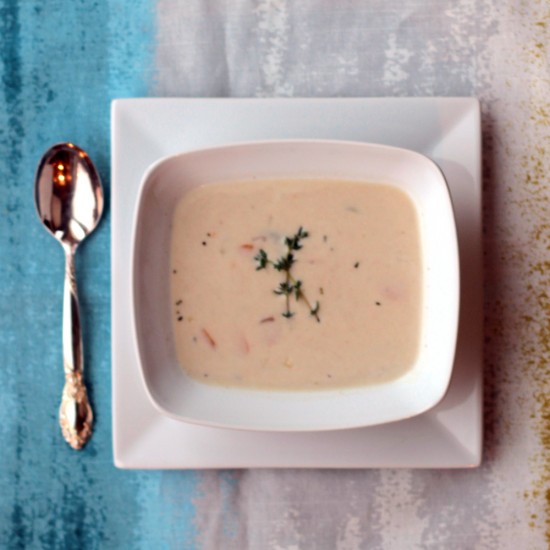 In just under an hour, you can have this meal on the table. If pressed for time, cook chicken and rice ahead of time. In a large stock pot, melt the butter and add chopped vegetables to the butter. Cook until softened and then whisk in the flour. Stir this constantly and allow to cook for approximately 2 minutes. Slowly add the chicken broth and bring the mixture to a boil. Drop in the awesome herb bundle and allow this baby to simmer for about 15 minutes. Don't cut corners! Let the herbs work their magic.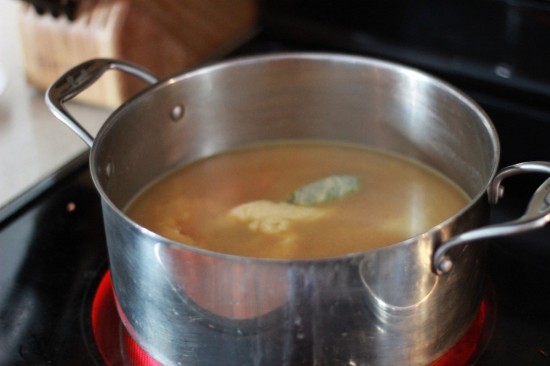 Once thickened add the chicken and bring the mixture back to a boil. You will then remove it from the heat and add in the sherry, heavy cream and wild rice. Don't forget to remove the herb bundle, it's work here is done. The sherry adds depth to this creamy soup and should not be skipped. I also would recommend that you invest the time to prepare and use wild rice for this dish. We once substituted with white rice out of necessity and the results were disappointing. The wild rice adds complexity and an earthy, nutty flavor. Check your local grocery store's bulk section for wild rice.
Serve it up to your family and sit back and smile. You'll feel like a magician as you watch it promptly disappear, vegetables and all.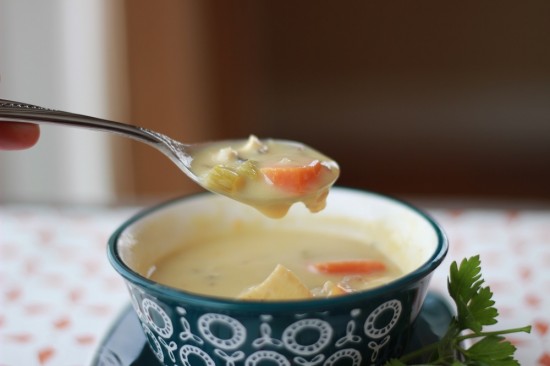 Cream of Chicken and Wild Rice Soup
2014-02-25 22:37:35
Ingredients
1/2 cup butter
1 medium yellow onion, chopped
2 stalks celery, chopped
3 medium carrots, chopped
1/2 cup plus 1 Tbsp. flour
7 cups low sodium chicken broth
1 1/2 cooked cubed chicken
1/2 cup heavy cream
2 1/2 tsp. dry sherry
1 Tbsp. salt
Pepper to taste
3 sprigs fresh parsley
3 sprigs fresh thyme
1 bay leaf
1 to 1 1/2 cup wild rice, cooked
Instructions
Wrap parsley, thyme and bay leaf in cheese cloth.
Prepare wild rice.
Season chicken with salt and pepper and cook chicken until done. Set aside. (This step can be done ahead)
Melt butter in a large pot over medium heat. Add onion, celery and carrots and cook until softened, approximately 12 minutes.
Add flour and cook, stirring for 2 minutes.
Add chicken broth and bring to boil, stir constantly. Drop in herb bundle, lower heat and simmer for 15 minutes.
Cube chicken into bite sized pieces and add to broth. Bring mixture back to a boil.
Remove from heat.
Whisk in sherry, heavy cream and salt/pepper. Remove the herb bundle.
Stir in wild rice and serve
Notes
Unfortunately I cannot find my original source for this recipe.
Only From Scratch https://www.onlyfromscratch.com/