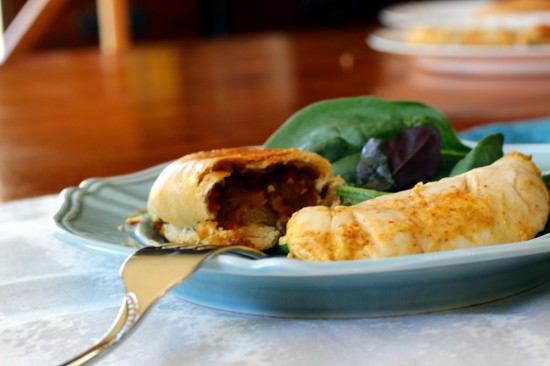 Let's rewind to approximately eleven years ago. Picture a small town girl, fresh out of college, whose most exotic lifetime food sampling had been sweet and sour chicken from the local Chinese joint. Now imagine that girl at a small potluck dinner function with a group of coworkers who had come all over the world. When my colleague handed me a samosa I didn't know what to expect or what to do. I was forced to step outside my comfort zone and, gasp, try something new?! I closed my eyes and took a bite. Holy s***! I liked it?! In fact, I liked it so much that I never forgot about that moment and that samosa. Now, years later, my cooking skills are finally advanced enough that I had the confidence to attempt such a dish.
These photos show that my samosas were a pretty hideous looking creation but the flavor was excellent. We have made this recipe a few times, initially using egg roll wrappers as advised by the original recipe. The egg roll wrappers were easy but wrong. Next attempt was using a recipe for samosa dough which was good, but way too thick. Today's attempt corrected the mistakes of the past and yielded a satisfying meal.
This samosa dough is adapted from William Sonoma. It has an excellent flavor but I did not follow the cooking instructions exactly. I was running out of time and did not have time to brown the dough before stuffing it. I also did not feel like messing around with oil. So I took a chance with baking these little guys at 400 degrees and they got nice and crispy. No one complained, the kids went back for more and the leftovers didn't get shoved to the back of the refrigerator to rot. These vegetable samosas are quite tasty. Although they are not authentic, and they pale in comparison to Vimi's samosas from so many years ago, they aren't half bad considering they were made by a small town girl who once feared almost everything that didn't come in nugget form. I would say they were a success.
Vegetarian Samosas
2014-10-22 20:00:29
Filling
2 Tbs olive oil
1 tsp red curry powder
1 tsp garam masala
1/4 tsp smoked paprika
1 tsp cumin
1/2 tsp chili powder
1/8 tsp tsp red pepper flakes
1 medium onion, chopped fine
1 medium carrot, chopped fine
2 medium potatoes, peeled and finely diced
2 medium red bell peppers, diced
1/4 tsp dried ground ginger
1 tsp garlic powder
1 tsp kosher salt
1 cup water
Samosa Dough
1/4 cup canola oil
2/3 cup water
2 cups all-purpose flour
1 tsp. kosher salt
1/2 tsp. baking powder
Instructions
In a small bowl, whisk together the oil and water. In a separate bowl, whisk together the flour, salt and baking powder. Stir in two-thirds of the oil-water mixture into the flour mixture. Slowly add the rest, 1 tablespoon at at time until the dough comes together to form a ball.
One a lightly floured surface knead the dought for 1 minute. Form the dough into a ball and wrap in plastic wrap. Let rest at room temperature for 30 minutes.
Combine the oil and spices from the first group of ingredients in a large nonstick skillet over medium low heat. Stir the spices around in the oil for about 2 minutes. Add the vegetables, raise the heat to medium and stir-fry for about 5 minutes. Once softened, the mixture can be mashed to create a smooth texture if desired.
Stir in the ginger, garlic powder and water.
Cover the skillet and simmer for about 10 minutes, stirring occasionally. Take the skillet off the heat and let the samosa filling come to room temperature.
On a floured surface, roll the dough into a rope about 18 inches long and cut into 8 equal pieces. Form each piece into a ball and flatten into a thin round that is about 6 inches in diameter. Cut each round into quarters. Add filling, brush the edges with egg wash and then fold over and seal.
Bake at 400 degrees for 15-20 minutes, or until browned
Only From Scratch https://www.onlyfromscratch.com/