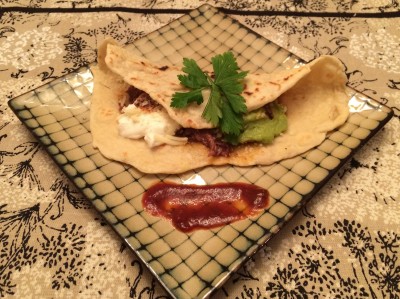 It all started when I was a kid. Taco night. I always looked forward to taco night. But, you need to understand that we are talking about store bought taco seasoning packet with crispy taco shells of unknown vintage. They were great, shredded lettuce and mozzarella cheese topped bottled taco sauce. As I have grown older, my tastes have changed. At this point I'd rather not touch the packaged taco kit as they are nothing but salt and preservatives. Yuck! Enter these crock pot beef tacos.
This recipe was passed along to me from one of my great friends and my family adores it. Take a few minutes before bed the night before and brown a chuck roast and mix up the cooking liquid and you have your self one killer week night meal. Just add your favorite taco vessel and throw some toppings in and you have a quick meal that the kids will gobble up. You had better make extra, the kids will be looking for it!
Since we are on this mission to create as much as we can from scratch, why not take this super easy slow cooker meal and make it difficult? And the best part, it wasn't even difficult! I took a crack at making my own tortillas. They are five simple ingredients that are probably in your kitchen right now. A few minutes to put the dough together and about one minute per tortilla to cook and you'll rockin' the taco – authentic-style.
Crock pot beef tacos
2014-01-07 19:28:41
Ingredients
1-2 tablespoons extra virgin olive oil
2 pounds beef (boneless chuck roast)
1 teaspoon chili powder
1/2 teaspoon cumin
1/2 teaspoon smoked paprika
1 cup beef stock
1 tablespoon tomato paste
1 chipotle pepper in adobo sauce, minced
1/2 large sweet onion, diced
3 cloves garlic, minced
Flour tortillas
Instructions
Heat the olive oil in a large, heavy skillet over medium-high heat. Meanwhile, combine the chili powder, cumin, and smoked paprika in a small bowl.
Rub the spice mix into the beef, covering each side evenly. Once the oil is hot (it will shimmer a bit in the skillet), place the beef in the skillet and sear on each side.
Remove the beef from the skillet and place in the bottom of a slow cooker. Leave the pan on the heat, and deglaze the pan with the beef stock, scraping up any browned bits from the bottom of the pan. Add the tomato paste and minced chipotle and whisk into the pan sauce. Bring the sauce to a boil, reduce the heat, and simmer for a few minutes until the sauce has reduced and thickened slightly.
Add the diced onion and minced garlic on top of the seared beef in the slow cooker. Pour the pan sauce down over the onions, garlic, and beef. Cover and cook on low for 6-8 hours .
Remove the beef from the slow cooker and shred with two forks (if necessary – mine was so tender it just fell apart when I took it out of the slow cooker). Use a slotted spoon to remove the onions from the slow cooker, and mix into the shredded beef
Notes
Top with your favorite taco toppings. I like sour cream, guacamole, salsa and cheese.
Adapted from Jen @ MyKitchenAddiction
Only From Scratch https://www.onlyfromscratch.com/
Homemade flour tortillas
2014-01-07 19:43:16
Ingredients
3 cups all-purpose flour
2 teaspoons baking powder
1 teaspoon salt
4 to 6 tablespoons vegetable shortening
1 1/4 cups warm water (approximate)
Instructions
In a large bowl, blend the flour, baking powder, and salt together.
Cut in shortening with a pastry cutter.
Add the water all at once and mix the dough quickly with a fork or by hand until the dough forms a mass. Work it in the bowl, moving it around the sides to pick up any flour remaining in the bowl.
Knead the dough by folding it in half, pushing it down, and folding again. It should take about a dozen folds to form soft dough that is no longer sticky. If the dough is too sticky, add more flour, one tablespoon at a time.
Cover the dough with a towel or plastic wrap to let it rest for about 5 to 10 minutes.
Warm iron skillet to medium heat
Form 1" balls and the press out into discs. Roll with a rolling pin until about 1/8" thick. Place tortilla into heated skillet. Bubbles will start to form and once the bottom looks done, turn it over and cook the other side. The second side will take less time than the first.
Only From Scratch https://www.onlyfromscratch.com/