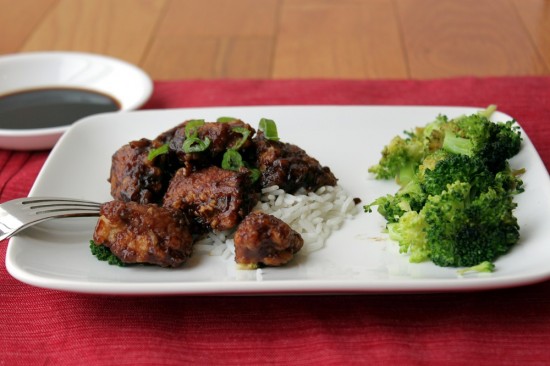 If you are looking for fat, salt and calories there is no better way to get it than to go out to dinner at a popular chain restaurant for Chinese food. My exposure to chain Chinese food is limited to lunches that are delivered to our office. Although tasty, I find myself drinking copious amounts of water later in the day. Not interested in spending a small fortune for salt on a plate? Try this recipe for General's chicken which is very similar to what you will find in a restaurant, but doesn't contain a week's worth of sodium in one plate.
Read the entire recipe through before you start because it moves quickly. It is best to start your rice before you do anything else. Also prepare the broccoli and set it aside.
Next cut the uncooked chicken into bite sized pieces. We used boneless, skinless chicken breasts (thin cut) but tenderloins also work well for this recipe. Allow them to sit in the soy sauce for about 10 minutes while you assemble the ingredients for the sauce. Also, don't forget to heat up oil for frying. We do these in a deep pan on the stove, rather than dragging out the deep fryer. Once marinated, stir the beaten egg into the chicken and then toss the chicken with the corn starch. Fry until golden brown and set aside.
The sauce is quite easy. You have everything assembled already right? If you don't, do it now. You won't have time to go searching for the hoisin sauce. Heat olive oil over medium heat. Prepare the cornstarch and water slurry and set aside. Add the ginger to the hot oil and sauté for one minute. Throw the garlic in and sauté that for about 30 seconds. Next mix in the hoisin, vinegar, sugar and soy sauce and cook for one minute. Stir in the cornstarch mixture and allow sauce to thicken. Once thickened, stir in the cooked chicken until coated and serve over rice with broccoli.
See how quick that was? A healthier version of a popular meal on your plate faster and cheaper than you would get at any restaurant!
General's Chicken
2014-02-05 08:40:54
Chicken
1 pound boneless, skinless chicken breasts cut into bite sized pieces
1 tablespoon soy sauce
1 egg, lightly beaten
1 cup cornstarch
Sauce
1 tbsp cooking oil
1 thumb size ginger, sliced
2 tsp minced garlic
2 tbsp hoisin
1 tbsp rice wine vinegar
4 tbsp soy sauce
2 tbsp sugar
2 tsp cornstarch
2 tbsp water
You will also need
Vegetable oil for frying
Broccoli florets, blanched
Cooked white rice
Chicken
Marinate the chicken in in soy sauce for 10 minutes.
Add egg. Dredge each piece of chicken in cornstarch.
Deep fry for about 5 minutes or until cooked and golden brown.
Drain on paper towels and set aside.
Sauce
Heat oil over medium heat and sauté ginger for 1 minute.
Add garlic and cook for 30 seconds.
Add the hoisin sauce, vinegar, sugar and soy sauce to the pan and boil for 1 minute.
Combine the cornstarch and water to make a slurry. Pour slurry into the pan while mixing continuously and thicken the sauce.
Toss prepared chicken into the pan and allow the sauce to coat chicken evenly.
Remove from the heat and serve over white rice with broccoli.
Adapted from Pepper
Only From Scratch https://www.onlyfromscratch.com/