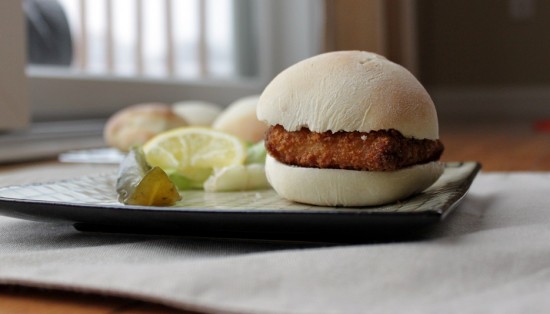 Today's lunch options were limited to PB&J sandwiches. The kids probably would have been happy with that but I found some frozen fish in the back of my freezer and decided that a fish sandwich sounded mighty fine for lunch today. Eating that on my homemade bread sounded gross so I decided to embark on a quest for a homemade hamburger bun recipe. Imagine my delight when I found a recipe that yielded a dozen buns in under 45 minutes!
These buns are very easy to assemble. The original recipe called for only 3 to 3.5 cups of flour. I adjusted the recipe to include 4 cups of flour because the dough did not come together at all after only 3.5 cups of flour.
Prior to baking bread from scratch, I looked at baking as a pretty exact science. This is not the case with bread making. Even recipes that I have made several times do not always require the same amount of flour due to subtle changes in humidity and temperature. For best results always go slow with the last cup of flour and if it doesn't look right, it is okay to go over or under on the flour. Remember not to pack the flour into the measuring cup tightly. Ideally the flour should be scooped into your measuring cup and leveled. However, most of us are guilty of scooping directly out of the container which can pack the flour too tightly. When in doubt, start small. You can always add more. Taking it out? Not so easy.
I may have removed them from the oven too early. They browned unevenly and were a little doughy on the inside. I would have preferred a little extra salt in mine as well. These are similar to a store-bought bun in flavor but consistency is much more dense. They were good but I am not sure that they would hold up to a greasy burger without getting soggy. All in all I think that I prefer the flavor and consistency of our quick dinner rolls for use as buns. The kids liked these buns and you might too. They'll only occupy about 20 minutes of your time for prep and are definitely worth trying.
From Scratch Hamburger Buns
2014-02-05 14:35:39
Ingredients
2 Tablespoons yeast
1 cup plus 2 tablespoons of warm water
1/3 cup vegetable oil
1/4 cup sugar
1 egg
1 teaspoon salt
4 cups of bread flour
Instructions
Combine yeast and warm water in the stand mixer bowl. Let sit for 5 minutes.
Add vegetable oil and sugar and mix. Let stand for 5 minutes.
Add egg, salt and flour and combine using the dough hook. Add 3 cups of flour initially and then gradually add the last cup of flour until the dough pulls away from the sides of the bowl. You may use a little more or a little less than 4 cups.
Knead the dough on low setting for 5 minutes
Roll out the dough on a floured surface and divide into twelve equal pieces.
Roll into rolls and place onto two heavy cookie sheets.
Let stand, covered for 10 minutes before placing into a preheated oven.
Bake at 425 degrees F for 8-10 minutes, or until golden brown
Adapted from Taste of Home
Only From Scratch https://www.onlyfromscratch.com/