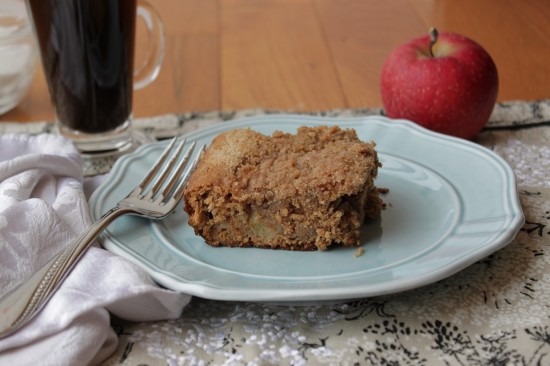 Since we have banished store bought baked goods from our house, I have been left with the challenge of trying to feed my family breakfast every day. For the last few weeks we have gotten by with muffins. A few past their prime apples were marked for apple streusel muffins but at the last minute I called an audible (it's Super Bowl Sunday, like the reference?). Apple cinnamon coffee cake it is!
I have made all sorts of cookies, cakes, brownies, muffins and so on and so forth. But I have never made a coffee cake before. Although it did create more mess than I would prefer on a Sunday morning, the smell of apples and cinnamon wafting through the air was totally worth it.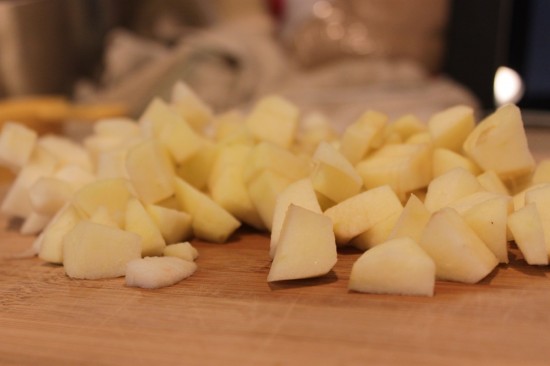 I started by preparing my apples. I left the apples in large chunks and am glad that I did because, even though they were pretty large, they cooked down a lot within the cake. The recipe called for two cups of apples but I think that I might add a little extra next time.
The batter is quick and very easy. Cream the sugar and butter together until it is soft and fluffy. Next add your eggs and mix thoroughly. Be sure to sift all of your dry ingredients together first before you slowly add them to the wet mixture. Once that is well combined, mix in your vanilla extract and the sour cream.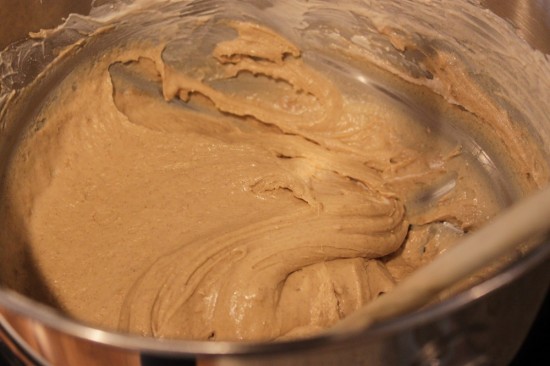 Now it's time to gently stir in the apples and pour the batter into a GREASED baking pan. If you are using a dark, nonstick pan reduce the oven temperature by twenty five degrees and watch it a little closer. These pans usually cook faster than a glass baking dish.
Don't forget to sprinkle the batter with your crumb topping before you pop it into the oven. This is a critical step and your coffee cake will be seriously sad without it. To get the best consistency, enlist in the help of a pastry blender to mix until it resembles coarse crumbs.
If you're really out for a sugar high you could create a basic glaze using confectioner's sugar and milk. Start with a cup of confectioner's sugar and 1-2 tablespoons of milk. Using a hand mixer, mix it up. Add milk, one tablespoon at a time, until the glaze is smooth and thin enough to drizzle over the top.
Let the cake cool a bit before you cut it, but definitely serve it warm. Tastes best with a piping hot mug of coffee or an icy cold cup of milk.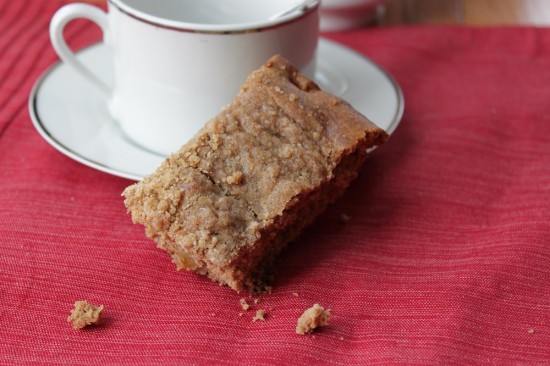 Apple Cinnamon Coffee Cake
2014-02-01 14:20:23
Cake
1 stick butter
1 1/2 cups packed light brown sugar
2 large eggs
2 cups all purpose flour
1 teaspoon baking soda
1 teaspoon ground cinnamon
1/2 teaspoon salt
1 cup sour cream
1 teaspoon pure vanilla extract
2 cups peeled, cored and chopped apples
Crumble Topping
1/2 cup packed light brown sugar
1/2 cup all purpose flour
1/2 teaspoon ground cinnamon
4 tablespoons butter, softened
Instructions
Preheat the oven to 350 degrees F.
Spray a 13 by 9-inch glass baking dish with nonstick cooking spray.
In a large bowl, mix the butter and sugar.
Add the eggs one at a time, beating after the addition of each.
In a separate bowl, sift together the flour, baking soda, cinnamon, and salt.
Add flour mixture to the egg and sugar mixture.
Add the sour cream and vanilla.
Stir in the apples.
Pour into the baking dish, spreading out to the edges.
Topping
Combine the brown sugar, flour, cinnamon, and butter, and mix with a pastry blender until it resembles crumbs.
Sprinkle the topping over the cake and bake 35 to 40 minutes or until done.
Remove from the oven and let cool on a wire rack for at least 10 minutes.
Serve warm.
Adapted from Emeril Lagasse
Only From Scratch https://www.onlyfromscratch.com/