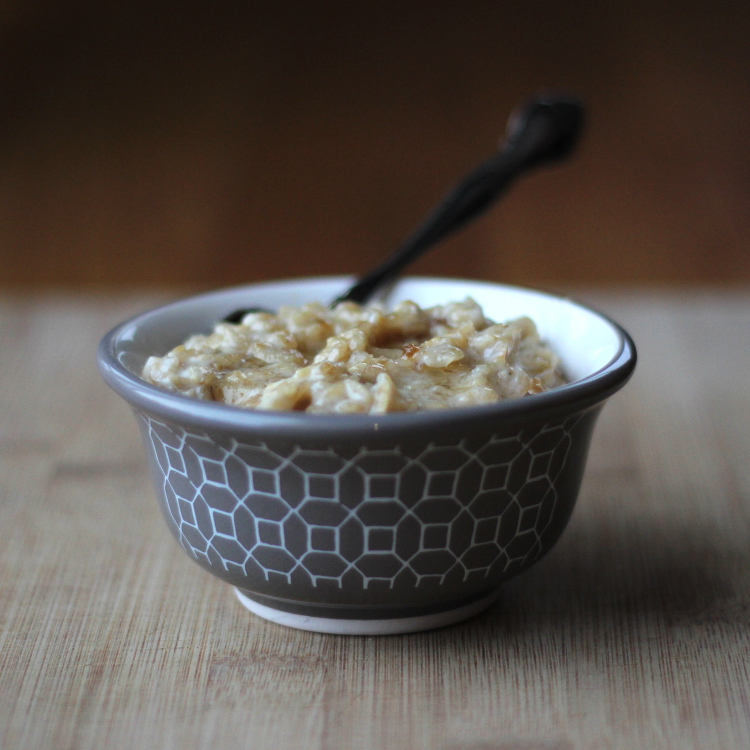 It's pretty well established that I am a huge fan of breakfast.  Eggs Benedict, hash and eggs, french toast or pancakes with bacon or sausage: sign me up!  We had sausage gravy with biscuits for dinner on Friday and then bacon gravy with biscuits for breakfast on Saturday.  Needless to say, on this Sunday morning both my cholesterol level and girlish figure could stand a bit of a break from all that goodness.
I was looking for something fairly easy and that would stick with me until lunchtime.  I typically eat steel cut oatmeal for breakfast at work during the week, nothing crazy, it comes in single serve bags and with the addition of 3/4 cup of water and in 2 1/2 minutes I am eating breakfast.  I didn't have any of those here, but I did have rolled oats that I use for my homemade granola recipe.  There is a lot of misconception about making oatmeal, it really doesn't take that long.  From start to finish it was about 15 minutes and the recipe couldn't be easier.  Just mix together two cups of milk, one cup of rolled oats, 2 tbsp of brown sugar and 1 tbsp of maple syrup.  Bring that to a boil and then reduce to a simmer and cook until the oats are cooked and the milk cooks down to a creamy sauce for the oatmeal.  Sprinkle some brown sugar and drizzle some maple syrup on top and you are ready for a healthy breakfast.
Maple and brown sugar oatmeal
Author:
Only From Scratch
Ingredients
2 cups whole milk
1 cup rolled oats
1 tbsp maple syrup
2 tbsp brown sugar
pinch of salt
Instructions
Combine all of the ingredients in saucepan and bring to a boil. Reduce to a simmer an cook for 10-15 minutes, until the oats are cooked and the sauce cooked down to a creamy texture.