Lately I have been enjoying yogurt with granola for breakfast pretty much every day. My granola of choice has been Bear Naked Vanilla Almond Crunch. It seems good enough, has no high fructose corn syrup or anything like that, but the ingredients list seems a bit longer than I would like. Plus, when one is trying to make everything from scratch, this is an easy win, so I went for it.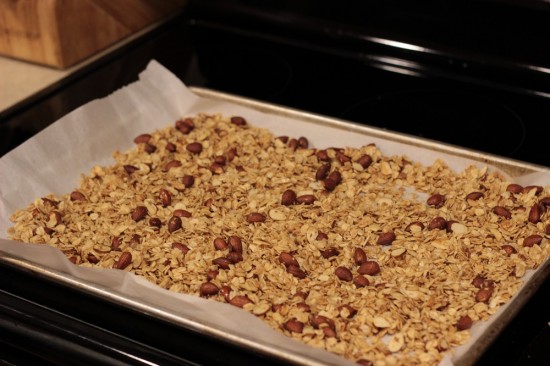 I looked around the web for a recipe for something to replace my Vanilla Almond and didn't find anything that fit the bill. There were a lot of commonalities in the recipes: oats, nuts of some sort, sweetener of some sort, oil and your choice of flavorings. I went with oats, almonds (of course), butter and peanut oil, brown sugar and honey and vanilla. I mixed all of the components together and spread them out on a parchment lined baking sheet and baked it off. I was surprised by what happened next.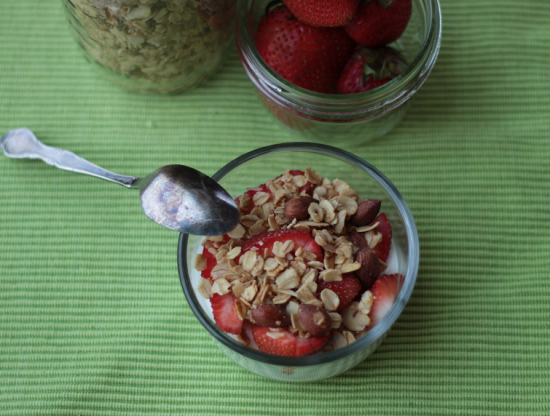 It was great! I mean, really great. We are talking best granola that I have ever eaten territory. Go ahead and try this recipe, you will surprise yourself and save a bunch of money at the same time.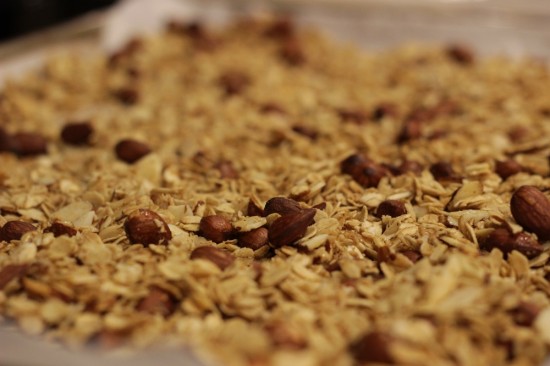 Homemade Vanilla Almond Granola
2014-05-22 20:46:45
Ingredients
2-1/2 Cup Old Fashioned Oats
1 Cup Almonds (whole roasted or sliced)
3 Tbsp Melted Butter
1 Tbsp Peanut Oil
2 Tbsp Brown Sugar
1 Tsp Honey
2 Tbsp Pure Vanilla Extract
Pinch of Salt
Instructions
Preheat oven to 325 degrees
Mix all ingredients together in a bowl
Spread granola into a thin layer on a parchment lined baking sheet
Bake 10 minutes
Use a flat spatula to turn the granola over and bake for another 8 minutes
Remove from oven and allow to cool
Store in an air tight container
Only From Scratch https://www.onlyfromscratch.com/