One of the vegetables that we were most looking forward to from the garden is kale. We became quite fond of it when we were receiving it from our CSA last summer so we planted quite a bit of it. This time of year is prime time for kale and our garden is no exception. A couple of weeks ago we had kale and sausage pasta on the menu, but I could not find a recipe anywhere, or to be more accurate, anywhere that I looked. I figure that this wouldn't be my first rodeo, I can surely put together something decent with things that we had on hand. With three ingredients in the title of the recipe, it couldn't be too challenging.
I was thinking about which direction to go, so I thought about greens and the sausage components together. This reminded me of our pasta fagioli recipe. I sometimes add spinach to that if we have it on hand to add a little additional something extra to the soup. I used that as my inspiration. I added a few of the major components of the fagioli, carrots, onions and garlic as well as the same seasonings. After the kale was in and wilted down to my liking, I sprinkled it with bread crumbs and freshly microplaned Parmesan cheese and put it under the broiler to crisp up the top and add a little texture. The results were fantastic. My better half and the kids also really enjoyed it.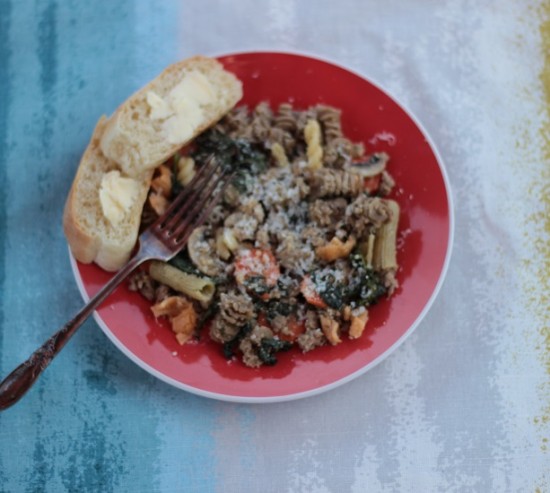 The first time through, I just used store bought penne and that tasted just fine. We picked up a locally made pasta mix at the farmers market this weekend and used that for the second go 'round. The boxed stuff is OK, this stuff was really good, so if you can get your hands on some good quality pasta, go for it.
Sausage and kale pasta
2014-06-29 12:24:31
Ingredients
1lb ground sweet Italian sausage
3tbsp olive oil
4 garlic minced cloves
1/2 diced medium onion
1 sliced medium carrot
1/2 cup sliced button mushrooms
1/2 cup chicken stock
1/2 lb pasta
3 large bunches of chopped kale
Crushed red pepper to taste
1/4 tsp italian seasoning
Salt and pepper to taste
1/4 cup bread crumbs
1/8 cup microplaned Parmesan cheese
Instructions
Add oil to a large oven safe skillet
Brown sausage
Once sausage is mostly browned pull the sausage to the edges of the pan to create an area to saute the carrots, garlic and onion. Cook for about 2 minutes and add mushrooms and saute another two minutes.
Add chicken stock and kale and cook until wilted thoroughly.
Add Italian seasoning, crushed red pepper, salt and pepper.
Remove from heat and sprinkle with bread crumbs and Parmesan cheese.
Place under broiler for 2 minutes. Watch carefully not to burn.
Only From Scratch https://www.onlyfromscratch.com/