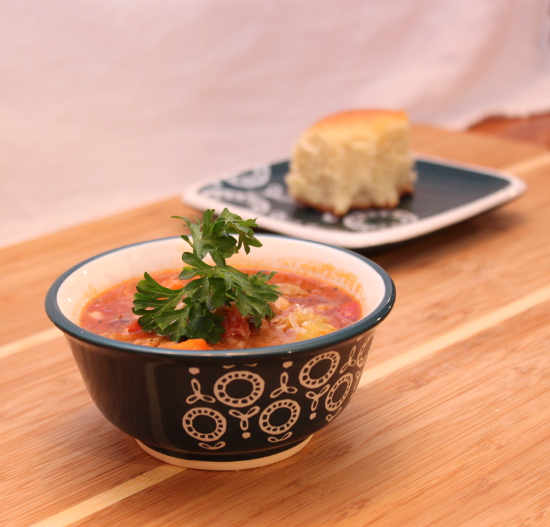 My two year old daughter reviewed this meal tonight without even being asked. About halfway through dinner she shouted out "Yummy in my tummy!" Toddlers are a notoriously difficult crowd to please, so I take any positive comments about the food I put in front that kiddo very seriously. Needless to say, this meal gets put into the dinner rotation often.
Something about the spicy flavors from the sausage combing with tomatoes, pasta, and vegetables is very satisfying without being too heavy. We scaled the spice factor back significantly by using a sweet Italian sausage and dialing down the red pepper flakes to just a sprinkle. Obviously, this can be adapted to require a call to the fire department if you are in the mood for some serious heat. Tonight, we kept it mellow as we were feeding kids and I'm suffering from some raging heartburn. (Stress related! It certainly cannot be all these spicy meals we've been whipping up of late!)
Anyway, I'm going to keep this brief since I tried to read a food blog earlier today with an article filled with so much fluff that I wanted to gouge my own eyes out. Seriously, I lost interest before I got to the important stuff (aka the recipe). Keeping it short, here's my run down of this recipe for you:
This pasta fagioli makes a great weeknight meal if you're not in a super rush. You'll need about an hour but clean up is a snap.
Not too many tips or tricks to this one. Just follow the instructions and you'll be happy.
I had a brain fart tonight and added all the pasta to the soup uncooked (which is what the original recipe called for). We prefer not to do it this way because for left overs you end up with a whole lot of pasta mush and virtually no liquid left. Cook the pasta separately and add just what you need to each bowl and to left overs when you reheat them to get the best mileage out of this meal.
That's all she wrote!
Pasta Fagioli
2014-01-15 19:50:30
Ingredients
1 tablespoon olive oil
1 onion, chopped
2 cloves garlic, finely chopped
2 carrots, peeled & chopped
1 stalk celery, chopped
1 lb sweet Italian ground sausage
1 tablespoon Italian seasoning
1 teaspoon red pepper flakes, to taste
1 15-ounce can crushed tomatoes
4 cups chicken stock
1 can white cannellini beans
1 cup ditalini
Parmesan cheese, for serving
Instructions
Heat olive oil in a large heavy pot over medium high heat.
Add the onion and cook about 2 minutes.
Add celery and carrots and cook for another 3 minutes.
Add garlic and sauté for about 30 seconds.
Next add the sausage, allow to crumble while cooking. Cook until the sausage is no longer pink and then stir in Italian seasonings and red pepper flakes.
Add crushed tomatoes and chicken stock.
Bring the mixture to a boil. Reduce heat and simmer 30 minutes.
While this is simmer start a pot of boiling water for the pasta and bring to a boil. Cook ditalini in salted water until done.
Add the beans.
Add cooked pasta.
Serve with grated cheese on top.
Notes
We prefer to add the pasta to each individual bowl rather than the entire soup. This helps our left over soup maintain the proper moisture. Keeping the separate prevents the pasta from soaking up all the liquid.
Adapted from Fake Ginger
Only From Scratch https://www.onlyfromscratch.com/