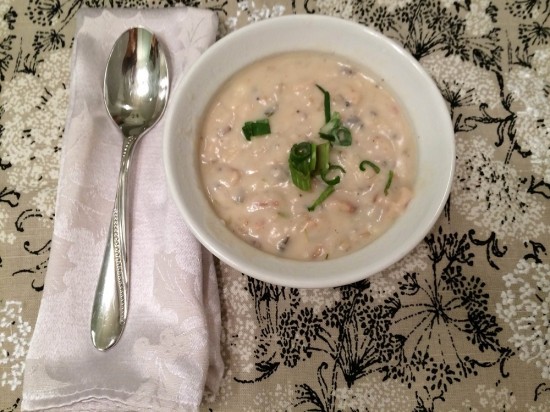 If you are in need of comfort food, this is it! This chicken and rice soup is creamy, flavorful, and mmm, mmm, good. Make it once and you'll say good-bye to Campbell's.
Obviously, this is not going to be as easy or as quick as popping open canned soup. Bear with me here. I did make this on a weeknight and it took a little over an hour. As written, this recipe will take up to 90 minutes but I was able to complete it faster without sacrificing quality. On a side note, I did not have precooked chicken or bacon ready.
To get this done faster, if you have uncooked meats, preheat your oven on convection at 400 degrees so you can bake the chicken and bacon at the same time. While that was warming up, I got the rice simmering.
Generously season your chicken breasts (I prefer boneless, skinless) with salt, pepper and garlic powder. These took about 20 minutes. Baking bacon (that sounds funny) is so easy and saves you burns from grease splatters. Eight slices took about 15 minutes at this temperature. Set both aside when they are done.
Wild rice takes forever. Are you tempted to substitute it? DON'T! We tried that when out of wild rice once and it just isn't the same. Anyway, this recipe advises you to simmer the rice in the broth mixture until it is done before proceeding to the cream sauce step. I don't have time for that! I let the rice simmer for only about twenty minutes before I began to assemble the roux and cream. Beware, the cream sauce comes together quickly! Combine your cream sauce with the rice and broth and allow the mixture to simmer while you chop up bacon, chicken and pimientos.
I found that the soup thickened very quickly and simmering for 30 minutes more may have resulted in a paste. By the time the chicken, bacon, pimientos, and sherry went into the mixture, the rice was done. So instead of letting it go for a half an hour, I let it simmer an additional 10 minutes to allow the flavors to marry.
Cream of chicken and rice soup (not from the can) paired beautifully with a nice warm loaf of Italian bread fresh from the oven. I'm not buying canned chicken and rice ever again!
Creamy Chicken and Rice Soup
2014-01-08 20:45:24
Ingredients
3 (10¾ oz) cans condensed chicken broth
2 cups water
½ cup uncooked wild rice, rinsed
½ cup finely chopped green onions
½ cup margarine or butter
¾ cup all-purpose flour
½ teaspoon salt
¼ teaspoon sage
⅛ teaspoon pepper
2 cups half and half
1½ cup cubed or shredded cooked chicken or turkey
8 slices bacon, crisply cooked and crumbled
1 tablespoon chopped pimiento
2 tablespoons dry sherry, if desired
Instructions
In a large saucepan, combine chicken broth and water. Add wild rice and onions. Bring to a boil. Reduce heat, cover and simmer 30-45 minutes (or until rice is tender). Once the rice is cooked, there will be a lot of additional broth – do not drain.
In a medium saucepan, melt butter then stir in flour, salt, sage, and pepper. Cook 1 minute, stirring constantly, until smooth and bubbly.
Gradually stir in half and half with the butter/flour mixture and cook until slightly thickened, stirring constantly.
Add this creamy mixture into the saucepan with the rice/broth.
Add chicken, bacon, pimiento and sherry and reduce heat to low, stirring frequently.
Allow to simmer for up to 30 minutes to allow the soup to thicken and serve.
Adapted from Pinch of Yum
Only From Scratch https://www.onlyfromscratch.com/