Another key component to cooking things from scratch is ensuring that you waste as little as possible.  I mean, who cares if you throw away half of a frozen meal from the store that you had little to do with the actually making of?  Now, if you had made the pasta and meatballs into a wonderful lasagna it would be a little harder to just pitch it into the garbage after everyone was done eating their meal.  This is especially important when you make an expensive rib roast, what can you do with leftover standing rib roast?  This recipe is one of my favorite uses for a leftover rib roast.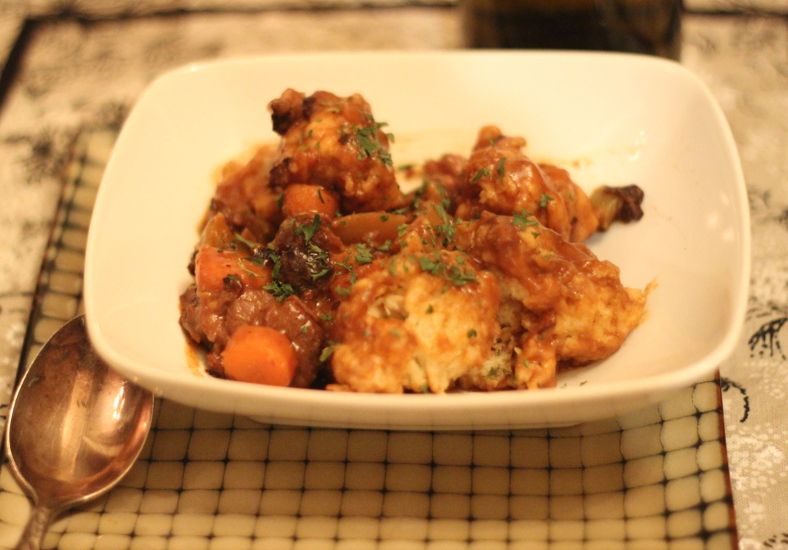 Getting the most out of your meals:
I have discussed our Christmas standing rib roast leftovers in my post about homemade beef stock, but this takes those leftovers a bit further.  Every year we make this rib roast, and every year I have to look to see how much meat I need to feed the family.  And, each year we have a lot leftover. You'd think that I'd learn and get a smaller piece of meat.  After throwing this recipe together, I will probably get an even larger roast next year.  Using the leftover rib meat knocks your average beef stew out of the park.
I have probably used 10 different beef stew recipes since I started cooking.  This takes the best of all of them and the end result is pretty perfect.  When the stew is completed, mix up a batch of dumplings and drop them into the simmering stew and cook for 12-15 minutes or until completely cooked.


Leftover standing rib roast tips and tricks:
If you don't have time make the leftover standing rib roast stew on the stove, you can follow the alternate crock pot directions in the recipe.  We actually used our nifty new electric multi-cooker for the dish that you see here.  We are beyond pleased with the results!  Edit:  Our cooker's pan liner got damaged when someone (me) dropped it, so we don't trust it for pressure cooking.  That particular model has since been discontinued, so we replaced it with a new Instant Pot.  The new Instant Pot has a lot of added features that the old one was missing.
A word about wine
Speaking about the red wine that should be used in this recipe.  You are looking for something somewhat hearty, but not overwhelming.  We had received a couple of bottles of red for Christmas, one as a Merlot and the other was a 2012 Cuné Spanish Rioja Crianza.  I am not a big Merlot guy, so I went with the Rioja Crianza.  I tried a small amount in a glass and found it to be quite good and thought that it would balance out the tomato paste and compliment the beef nicely.  As a matter of science I finished the bottle.  I stand by the decision to use this wine in the recipe.  If you don't have that wine on hand, a good Cabernet Sauvignon or Cabernet Franc will work as well for your leftover standing rib roast stew.
Leftover standing rib roast beef stew
Author:
Only From Scratch
Ingredients
3 tbsp olive oil
1 diced medium onion
4 cloves crushed garlic
3 carrots sliced into ¼" pieces
3 celery stalks sliced into ¼" pieces
2 small Yukon gold potatoes cut in ½" cubes
¼ cup flour
1 cup red wine
2 tbsp tomato paste
2 cups cubed leftover leftover beef roast/prime rib roast
4 cups beef stock
2 sprigs of thyme
1 bay leaf
Salt and pepper to taste
Recipe for dumplings if desired
Instructions
Add 2tbsp olive oil to heavy bottom pot or dutch oven and sauté onions and garlic until translucent
Add potatoes cut into ½' cubes, sliced carrots and celery and cook for two minutes
Add remaining 1 tbsp of olive oil to pan and mix in flour, cook for two minutes
Pour in red wine and cook for two minutes
Add tomato paste and stir to combine
Add the cubed beef and beef stock and herbs and bring to a simmer and cook for 1 hour or to desired thickness
Alternately, you can saute the onions and garlic in a pan on the stove and then add them along with the rest of the ingredients to a slow cooker and cook them on low for 6-8 hours.
Transfer back to a large pot and simmer to cook a recipe of dumplings.