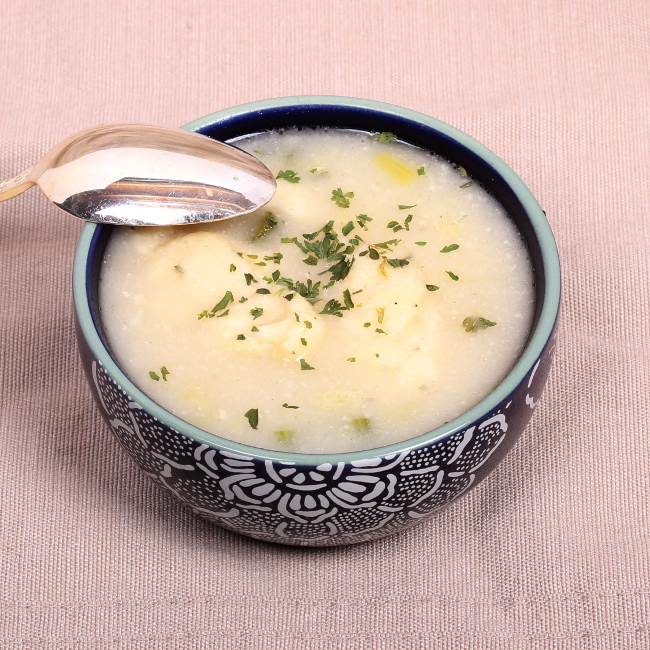 I am pretty lucky to have kids that will eat almost anything. So when my daughter invited a friend (a "picky eater") to stay for dinner, I placed the bowl in front of her and held my breath. Imagine my surprise when she gobbled it all up and asked for more!
Did you read my earlier post about the surprising powers of parsnips? Well this is the recipe that sold me on that vegetable! This recipe is ready in about an hour and yields a warm, satisfying meal that tricks your kids into liking vegetables. The best part about this meal is that its full of flavor comes only from vegetables, herbs, and chicken. No seasoning, gravy packets, or store bough rotisserie chicken needed.
I prefer to save this meal for a weekend, but if you are a prepper, you may be able to pull this off in less than an hour on a weeknight. Gnocchi can be made ahead and stored in either the refrigerator or freezer. To save the most time, I would make ahead the gnocchi, cook your chicken and reduce the stock ahead of time. These are the most time consuming components of the recipe.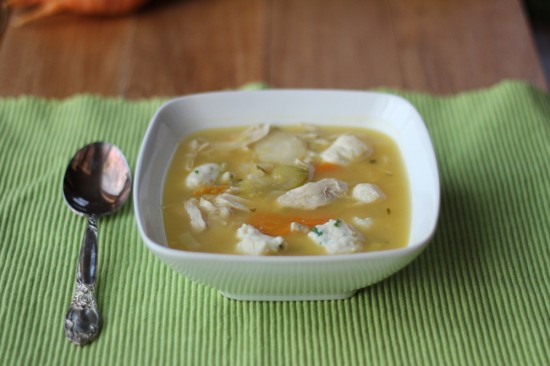 Let's assume that you are not a planner. The first step should be to get your chicken cooking right away in the chicken stock. The recipe calls for chicken thighs but I have also used chicken breasts with good results.
While the chicken is cooking, the stock pot should be covered. While the chicken is simmering, I prep the gnocchi so that it can chill while the meal is cooking. If you prefer to use fresh ricotta, it will need to drain overnight before you use it. I use store brand ricotta which requires no drainage. I know, I know. Cut me some slack, my husband will eventually want to make this from scratch too.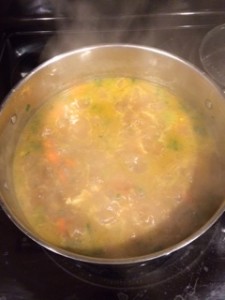 The 30 minute cooking time is more than enough to make the gnocchi and to prepare your vegetables. Once the chicken is cooked, remove it and set aside. Uncover your broth and let it reduce while you prepare the roux. Once the roux has a nice pale appearance, whisk it into your reduced chicken broth and watch it thicken! Add your vegetables. Once the vegetables are in, I use this time to finish the gnocchi. Once the vegetables are tender, add the chicken (shredded) and herbs. Season to taste.
The original recipe calls for the gnocchi to be cooked separately. I usually cook enough for dinner right in the stock pot with the chicken and vegetables and it helps thicken the liquid a little more. I cook the rest separately and store them for leftovers.
This was a surprise hit in our house and is now a winter favorite. The meal isn't cheap to make after the costs of the fresh herbs, vegetables, chicken and ricotta. However, for our family of four, this makes enough for at least one left over night and sometimes extra servings for lunch. You will use copious amounts of chicken broth, which can get expensive. By using homemade broth we save $7.50 on this meal. Check back soon to learn how to make and store chicken broth so that you can save some $$$ on this dish.
Chicken and Dumplings
2014-01-02 22:35:19
Gnocchi
1 pound ricotta
1/2 cup plus 2 tablespoons all-purpose flour plus more
1 large egg, beaten to blend
1 1/4 cups finely grated Parmesan
1/8 teaspoon grated nutmeg
1/2 tablespoon kosher salt
Chicken and gravy
10 cups low-salt chicken broth
2 pounds skinless, boneless chicken thighs
1/4 cup (1/2 stick) unsalted butter
6 tablespoons all-purpose flour
2 celery stalks, cut crosswise into 1/4"-thick slices
1 carrot, peeled, thinly sliced
1 parsnip, peeled, cut into 1/4"-thick rounds
1 leek, halved lengthwise, cut crosswise into 1/4"-thick slices
1/4 cup chopped flat-leaf parsley
1/4 cup chopped fresh chives
Kosher salt, freshly ground pepper
Shaved Parmesan
For gnocchi
Add ricotta.
Mix ricotta, 1/2 cup plus 2 tablespoons flour, egg, Parmesan, nutmeg, and salt in a large bowl just to blend (do not overwork). Form dough into a ball (it will be sticky); wrap in plastic and chill for at least 1 hour and up to 1 day.
Line a baking sheet with parchment paper; set aside. Place dough on a lightly floured work surface. Divide dough into 4 equal portions and cover with a clean kitchen towel. Using your hands, roll 1 portion into a 1/2"-diameter rope; cut crosswise into 1/2"-thick pieces. Lightly dust gnocchi with flour and transfer to prepared baking sheet. Repeat with remaining portions of dough. Cover gnocchi with a kitchen towel and chill until ready to cook. DO AHEAD: Can be made 2 months ahead. Freeze on sheets, then store, frozen, in an airtight container.
For chicken and gravy
Bring broth to a boil in a large saucepan. Add chicken; reduce heat to low, cover, and gently simmer until chicken is tender and cooked through, 20–30 minutes. Remove chicken; let cool slightly and shred into bite-size pieces. Bring broth to a boil and cook until reduced to 8 cups, about 15 minutes.
Meanwhile, melt butter in a small heavy saucepan over low heat. Whisk in flour until smooth and cook, whisking constantly, until roux is pale beige in color, about 15 minutes (do not brown).
Scrape roux into simmering broth; whisk until thickened and broth coats the back of a spoon. Reduce heat to low and add vegetables. Cook until tender, about 5 minutes. Add shredded chicken and herbs. Season with salt and pepper. DO AHEAD: Can be made 2 days ahead. Chill, uncovered, until cold; cover and keep chilled. Rewarm before serving.
Cook gnocchi in a large pot of boiling salted water, stirring occasionally, until gnocchi float to the surface, about 2 minutes (slightly longer if frozen). Using a slotted spoon, transfer gnocchi to bowls, dividing equally. Ladle chicken and vegetables with gravy over. Season with pepper and top with Parmesan.
Notes
If you are using fresh ricotta, you may need to drain it overnight. Line a strainer with cheesecloth and set it over a medium bowl in the refrigerator overnight. If using ricotta from the supermarket, there is no need to drain it.
Adapted from Epicurious
Only From Scratch https://www.onlyfromscratch.com/