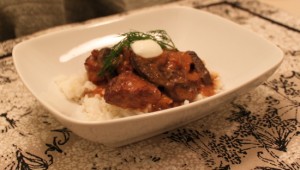 This is not the recipe you remember from your childhood. The complex flavors share little resemblance to a braised beef with gravy that may or may not have had some sour cream happen to fall into it. The fact that this is a crock pot meal makes it even better. Spend 15 minutes before you go to bed and get it ready to cook all day while you are at work. Put it on as soon as you wake up because the meat gets more tender and tasty the longer it cooks.
When you return home your house is going to smell amazing. Next comes the most important decision of your day: what starch to serve this excellent beef stroganoff with? For us there are really only three options, rice, egg noodles, or mashed potatoes. I love me some rice, but Kelly loves the potatoes, and noodles are so easy….What to choose? We have done them all, all are good. Go with your favorite. Once those are cooking, it's now is the moment when you bring the sour cream into the mix. Once that is done add the Dijon and season to taste. You're almost there and it will be worth it.
Once everything is done, plate the beef, mushrooms and sauce on top of your starch. I like to throw a little dollop of sour cream on top with some chopped dill, parsley or other fresh herb for a little presentation factor. Don't go too crazy, though. It will be gone before you know it and you will be on to round two!
Slow cooker beef stroganoff
2014-01-14 18:12:46
Ingredients
2 tbsp vegetable oil
3 onions, minced
1/4 cup tomato paste
3/4 cup dry white wine
1 boneless beef chuck-eye roasts 2.5 - 5lbs, trimmed and cut into 1-1/2 inch chunks
10 ounces white button mushrooms, quartered
2 cups low-sodium chicken broth
1/3 cup soy sauce
1/4 cup minute Tapioca
1/2 ounce dried porcini mushrooms, rinsed and minced
1/2 cup sour cream
2 tsp Dijon mustard
Instructions
Heat the oil in a 12-inch nonstick skillet over medium heat until shimmering but not smoking. Add the onions, tomato paste, and 1/4 tsp salt and cook until the onions are softened and lightly browned, 10-15 minutes. Stir in the wine, scraping up any browned bits on the bottom of the pan.
Transfer the onion mixture to a slow cooker insert and stir in the meat, white mushrooms, broth, soy sauce, tapioca, and porcini mushrooms until evenly combined. Cover and cook on low until the meat is tender, 9 to 11 hours (or cook on high for 5-7 hours).
Gently tilt the slow cooker insert and de-grease as much fat as possible off the surface of the stew with a large flat spoon. Stir 1 cup of the stewing liquid into the sour cream to temper, then stir the sour cream mixture back into the stew. Stir in the mustard, season with salt and pepper to taste, and serve.
Adapted from Blissfully Delicious
Only From Scratch https://www.onlyfromscratch.com/