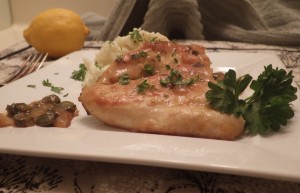 This is one of those recipes. The ones that comes up after you eat the same meals over and over again. With high hopes you add it to your menu. And as sure as the sun rises and sets it gets skipped that week. I can't really say why, it's not like it is complicated to make or tastes horrible. More times that not this never makes it – I know, I am doing a great job of selling this recipe. Don't bail on me just yet, it gets better.
The truth is, it's a great recipe. What's not to love about thin chicken cutlets in a light flour breading that is pan fried in both olive oil and butter? Throw in the tangy tartness of lemon and a good dry white wine and you have got yourself a bright and flavorful weeknight meal. Did I mention it takes only about 30 minutes to complete? I am glad that I didn't pass it over tonight. Everybody loved it. Everybody! We served it tonight with mashed potatoes, but it would have been great on some angel hair pasta, or just about anything that you have half of a box of in the pantry.
So, take my word for it, this is one that is worth making. But, please, don't bump it to next week. This one is for having right now.
Chicken piccata with capers
2014-01-13 22:13:44
Ingredients
2 chicken cutlets
1/2 cup flour
salt and freshly cracked black pepper
2 Tbsp unsalted butter, divided
2 Tbsp olive oil, divided
1 large or 2 smaller shallots, minced
2 cloves garlic, minced
1 heaping Tbsp capers, drained (plus more for garnish)
1/4 cup white wine, dry sherry,or Marsala
juice of 1 lemon
1/2 lemon finely sliced on a mandoline slicer
handful of fresh parsley, chopped (reserve some for garnish)
Instructions
Season the cutlets with salt and pepper. Dredge the cutlets in the flour, making sure to get all the surfaces covered.
Heat 1 Tbsp of the butter and 1 Tbsp of the oil in a pan. When it is nice and hot add the chicken and let brown for about 3 minutes each side, This will basically cook the chicken through.
Set the chicken aside on a plate.
Wipe out any burned bits from the pan and add the final Tbsp of butter and of oil. Saute the shallots and garlic for 2 or 3 minutes until soft. Add the wine and lemon juice to the pan along with the capers, parsley, and finely sliced lemon and continue cooking for a couple of minutes to create the sauce.
Nestle the chicken back into the sauce, spooning it over the chicken. Heat through, and serve hot, garnished with more capers and parsley.
If the sauce gets too thick, add a little water and reheat it through.
Notes
We don't have a mandoline slicer (it's on the list of things we want, just never happens), so I leave this part out. I lose a couple of points for plating, but usually make it up in the taste categories.
Adapted from The view from great island
Only From Scratch https://www.onlyfromscratch.com/