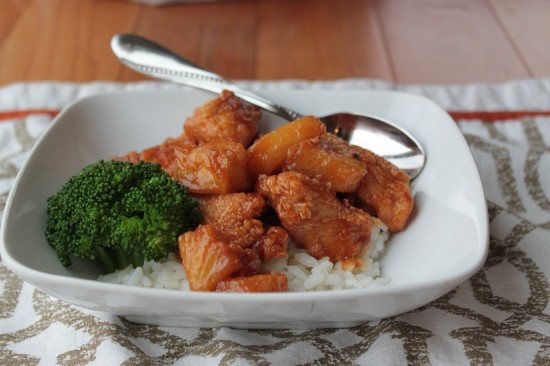 Before I left work today, everyone was talking about what type of food that they were ordering for dinner tonight. I must admit that I was seriously considering ordering a pizza. When I arrived home, I found Eric toiling away in the kitchen whipping up homemade Chinese food. The results were 1000x better than anything I've ever had out of a Styrofoam container. Why you ask?
This sweet and sour chicken was ready in the same amount of time as it would have taken for us to pick up the phone, order it, and pick it up.
Super crispy and delicious REAL chicken breasts. No mystery meat here.
Remember that red sauce that makes your chicken sweet and sour? No dipping here. These babies were coated in this delicious sauce.
It hit my plate piping hot and did I mention it was crispy?! No soggy batter!
My rice was free of peas (I hate those vile little things).
No one got stabbed over egg rolls.
Money saved!
I know, I know we've been saying everything is good but I truly mean it. This one was a new recipe for us and is a definite keeper. Perhaps Eric can chime in with any tips for prepping it, all I can give you is a first hand review that this is worth the work!
Sweet and Sour Chicken
2014-01-17 22:09:10
Chicken
1 pound boneless, skinless chicken thighs or breasts, cut into 1-inch cubes
2 egg whites
1 1/2 cups cornstarch
1/2 teaspoon salt
3 cups peanut or vegetable oil, plus 1 tablespoon for stir-frying
1 tablespoon minced garlic
1/4 teaspoon ground ginger
1 cup fresh bite-size pineapple chunks
Sauce
3 tablespoons water
2 tablespoons ketchup
2 tablespoons orange juice
1 1/2 tablespoons white vinegar
1 tablespoon Worcestershire sauce
1 tablespoon soy sauce
2 tablespoons sugar
Instructions
Mix the egg whites with the salt and dip the chicken in the egg white mixture.
In a large bowl, toss the chicken in the cornstarch and shake off any excess before frying.
Heat the 3 cups oil in a wok or heavy-bottomed pot until it registers 350 degrees F. Working in 2 or 3 batches, add the first batch of chicken and deep-fry until lightly golden on the outside and cooked through, about 3 to 4 minutes. Remove the chicken with a slotted spoon and transfer on a plate lined with paper towels. Repeat with the rest of the chicken.
Heat the 1 tablespoon of oil in the skillet over medium-high heat. Add the garlic and ginger and stir-fry until just aromatic, about 20 seconds.
Add the pineapple and the sauce and stir to coat. Let the sauce simmer for about 2 minutes.
Return the chicken to the pan and toss until well-coated with the sauce.
Serve over rice.
Adapted from Appetite for China
Only From Scratch https://www.onlyfromscratch.com/