The winter that seemed like it was never going to end seems to be relenting and giving way to warmer weather.  With warmer weather we start to move some of the cooking outdoors to the grill.  This recipe came to us via an excursion during the cruise that we took last fall.  In St. Maartin we went sailing for the day on a boat called the Random Wind.  Once of the many highlights of the trip was the lunch that was served:  a delicious chicken with rice.  Let this Random Chicken recipe transport you to someplace warm any time of year!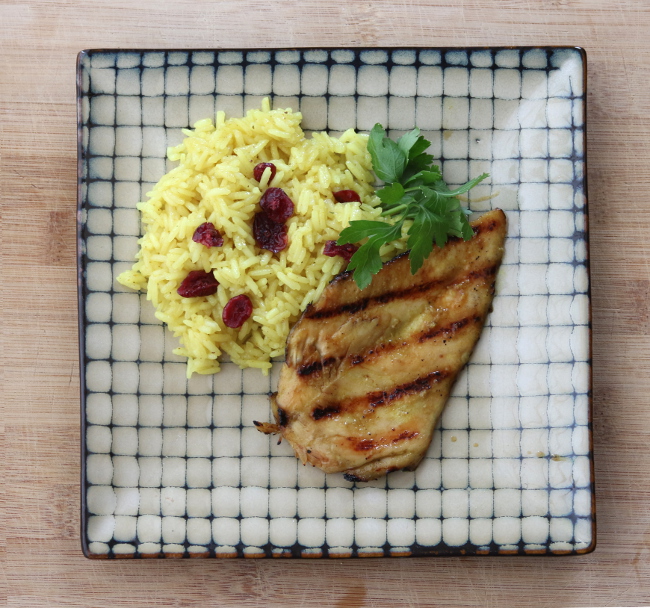 We emailed them and they were kind enough to provide us with not-so-much a recipe, but a general direction and the spices and ingredients that were used to prepare the dish.  That is the great thing about cooking, you can start with just a list of what you should use and wing it into something great.
Random chicken recipe process:
This recipe starts with sweetened cream of coconut, coconut oil and some signature spices used in the Caribbean: curry, ginger and turmeric.  On the trip, I do not believe that they grilled it.  I believe it was baked in the oven and that has been how we have cooked it until we were able to clear the snow away from the Grill and get outside to cook it.  Either way, it tastes wonderful served along side with some Jasmine rice seasoned with the same spices, coconut oil and sweetened cream of coconut.
Tips and tricks:
Since this recipe started off as just list of ingredients and a general direction there is some room for interpretation.  We have tried it with more curry powder where it acted more like a rub, or more cream of coconut and it acted more like a marinade.  Both ways have turned out great, try some variation and have it fit your personal tastes. 
A word on grilling versus baking: grilling this chicken recipe really improves the flavor.  We have a grill pan and hadn't used it that much due to the smoke.  We decided to use the grill pan the last time we made this, remembering to turn on the fan before starting to grill made a big difference.

Random Chicken Recipe
Author:
Only From Scratch
Ingredients
1lb chicken, you can use thin cutlets or tenderloins
3tbsp sweetened cream of coconut
2tsp extra virgin coconut oil
1tsp curry powder
⅛tsp turmeric
⅛tsp ginger
1tsp salt
½tsp pepper
1tbsp olive oil
For the Rice
1 cup rice
1-1/4 cup water
1 tbsp coconut oil
2 tbsp sweetened cream of coconut
½tsp curry powder
1tsp curry powder or to taste
⅛tsp turmeric or to taste
⅛tsp ginger or to taste
1tsp salt
½tsp pepper
Dried cranberries or cherries for garnish
Instructions
Mix the cream of coconut, coconut oil, olive oil and spices together and toss with chicken and allow to marinate for 1 hour.
Grill or bake until cooked through, be sure the chicken is coated with the glaze when cooking
For the rice
Add coconut oil to and heat until melted
Add rice and cook for on minute
Add water, sweetened of coconut and spices and bring to a boil
Reduce to a simmer and cook for 15 minutes or until rice is cooked all the way through.
Garnish rice with dried cranberries or cherries