Today is St. Patrick's Day.  The traditional meal is corned beef with cabbage.  I really like corned beef and I don't even mind the cabbage.  My mother would boil the corned beef and cabbage along with carrots and potatoes.  That's pretty much the St. Paddy's day recipe and I am on board with that.  The wife, however, isn't a fan of cabbage or corned beef if she does say so herself.  Even though she doesn't care for it, she knows that corned beef is one of my favorites and sought out a recipe for it that she would like.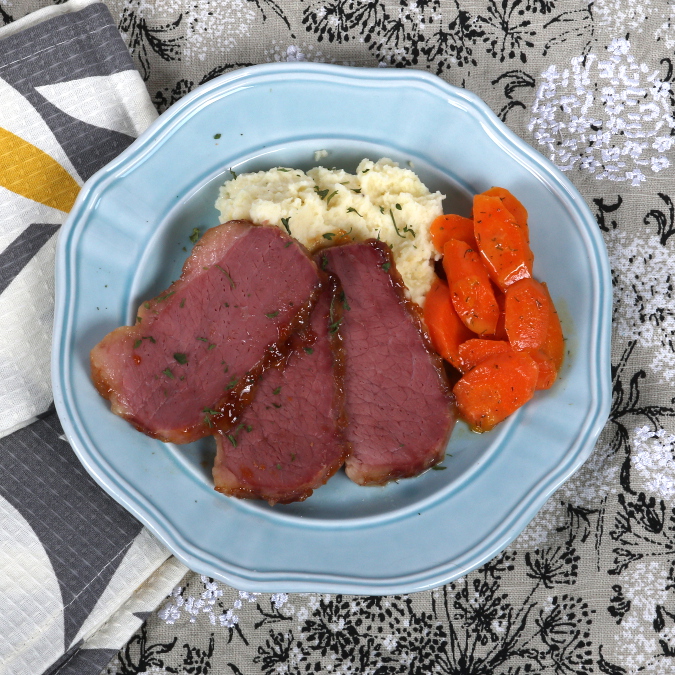 That was about 10 years ago and I am not even sure where she found it, but we still make it today!  If you love the saltiness of the corned beef, you will not be disappointed.  Add a little sweetness from brown sugar and apricot jam, then throw in some soy sauce to keep it from getting too much like candy and you have got your new St. Patricks Day corned beef dinner.
We have always braised it in the oven with some water for 2-1/2 – 3 hours and then finished it off with the glaze, but that wasn't going to work for us this year.  We decided to take a chance by cooking it in the crock pot and finishing it off with the glaze in the oven.  That method worked out very well.  At lunch time Kelly put the piece of corned beef into the crock pot and it cooked on low until I got home four hours later.  I preheated the oven and mixed up the glaze and gave it a good coating and put it in while it was warming up.  I added some additional glaze every 5-10 minutes and cooked it for another 45 minutes or so.  While that was going down, I peeled and cut up some potatoes to be mashed and cut up some carrots to be glazed.
All in all dinner was a success and we didn't even need to sit around babysitting a corned beef all afternoon.  The corned beef purists may not want to like this because it doesn't fit with the tradition, but they will love it!

Corned Beef Dinner
Author:
Only From Scratch
Ingredients
4½lb corned beef
1 cup water
1 cup apricot jam
4 tbsp brown sugar
2 tbsp soy sauce
Instructions
Add the piece of corned beef and the water to a glass baking dish with sides. Cover securely with foil and cook in a 350 degree oven for 2½ -3 hours and remove from oven for glazing
Mix apricot jam, brown sugar and soy sauce together and cover the meat with ¼ of the mixture
Cook uncovered for 10 minutes
Remove and add another ¼ of the glaze to the meat and return to the oven for 10 more minutes, repeat once more
If the meat is is cooked to your desired tenderness you can remove it and allow it to rest of 5-10 minutes, if not, glaze and cook for 5 more minutes - keep an eye on it as to not burn the glaze.