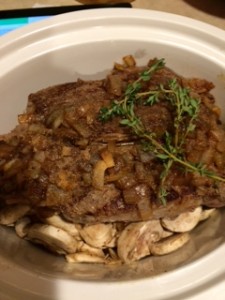 As a working mom, I have always wanted the slow cooker to be my secret weapon. Unfortunately, for years I had trouble finding recipes that didn't leave me constantly reaching for a salty can of cream of (fill-in-the-blank here) soup. Well now that we don't eat that junk, soup mixes and cream of crap aren't options anymore. This slow cooker recipe has none of that artificial stuff and it harnesses the power of parsnips to deliver a warm, hearty meal that isn't loaded with extra salt and fat.
Parsnips you say? What the what are those? Well you see, this sneaky little vegetable has the appearance of a white carrot and it packs a subtle, sweet punch. Not sure about parsnips? Neither was I, until I ate them. Everything that I have cooked with this vegetable has turned out awesome. Coincidence? I think not!
Seriously, the first time that I made this recipe, I was shocked by how flavorful the meat was. Something about this combination of carrots, onions, parsnips and mushrooms really shines and makes a kick-ass gravy.
This slow cooker meal does require a bit of assembly but it really pays off. Take the time to brown your meat and caramelize the onions before you place them in the crock pot. If you don't have white wine on hand, deglaze the pan with 1/2 cup of beef stock instead. To save a little time, I do buy sliced fresh mushrooms. You could also use baby carrots and red potatoes (cut in half) to save a little slicing time. You'll be happy with the outcome, no matter how you slice it (these are the jokes, folks).
All kidding aside, at the end of the day you'll have yourself a tender chunk of meat, tasty potatoes, and a side of yummy vegetables. Take the time to make a quick gravy and you're sure to walk away from the table stuffed and satisfied. It's not every day that a busy mom can cook something that tastes like a complicated Sunday meal, on a work night!
Be sure to keep those left overs and check back soon because Eric is going to teach you how to make an amazing roast beef hash out of them! Seriously, don't miss it. It's really good!
Slow Cooker Pot Roast with Root Vegetables
2013-12-26 18:03:53
Ingredients
2 pounds chuck roast
1 yellow onion, chopped
5 carrots, sliced
5 parsnips, sliced
8 ounces of fresh, sliced mushrooms
3 Russet Potatoes, peeled and quartered
3 sprigs Thyme
1/2 cup white wine
1/2 cup beef broth
1 Tbsp Worchestershire sauce
Salt
Pepper
Garlic Powder
1 Bay leaf
2 Tbsp butter
Instructions
Heat 2 tablespoons of olive oil in a large pan over medium heat.
Season meat generously with salt and pepper.
Brown chuck roast on both sides. While meat is browning, add onions and sauté.
While the meat and onions cook, add sliced carrots, parsnips and mushrooms to the slow cooker.
Place browned beef on top. Finish cooking the onions.
Deglaze pan with white wine and cook down.
Add to the onion and wine mixture to the slow cooker.
Add beef broth and Worcestershire sauce to the pot.
Top the meat with potatoes.
Add garlic powder, pepper, thyme and bay leaf. Top with butter.
Cook on low for 6-8 hours, until done.
Notes
You can make a gravy from the pan juices using a fat strainer and flour. This step definitely pays off!
Only From Scratch https://www.onlyfromscratch.com/
Disclaimer: I cannot find the original source of this recipe for a proper citation.