It was inevitable during this time of year… you get the invited to the neighborhood get together and you need to bring a dish to pass. You don't have the time to make a main dish or an elaborate salad, and they already have enough desserts. You can offer to bring an appetizer, but you don't want to be lame and show up with a bag of tortilla chips and salsa. What is your move? Dill dip with pumpernickel bread, that is your move.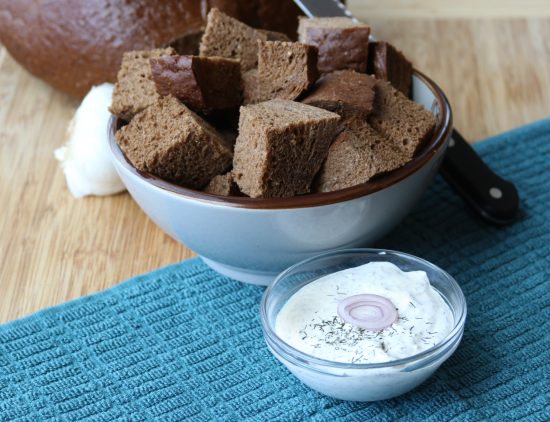 For me, it doesn't get any better than dill dip served with pumpernickel bread. It's creamy, salty and has an herby freshness that cannot be beat. My secret is finely minced shallots. The shallots give the dip a subtle bit without an overpowering onion flavor. We serve this at every one of our family functions and I am constantly introducing it into my circles of friends, and they love it!
The best part about this dip is that it takes very few ingredients and is even better when made ahead of time, so you won't be rushing to get it done before the guests arrive. Just cut the pumpernickel into cubes and put them into a zipper bag and you are ready for your guests.
A word about bread
I have not ventured into making my own pumpernickel bread, frankly it looks pretty difficult and we have a couple of great local bakeries that I am always happy to get a loaf or two from. I prefer a whole loaf and use my Wusthof serrated bread knife to cut it up, but you can use pre-sliced if that is your only option. I also like to get a loaf of marble rye and cut that up as well to add some variety.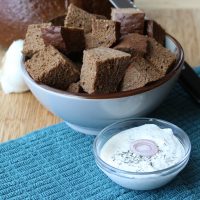 Dill Dip
2013-12-26 20:23:11
Ingredients
1 minced shallot - can use red or yellow onion if you do not have a shallot
1 cup sour cream
1 cup mayonnaise
1/8 cup minced fresh dill - more or less to taste (dried dill can be used in a pinch, just use about 1-1/2tbsp)
1/4 tsp celery seed
kosher salt to taste
fresh ground black pepper to taste
Pumpernickel (I often cut up a marble rye as well for variety) cut into cubes.
Instructions
Whisk mayonnaise and sour cream together and then add shallot, dill, celery seed, salt and pepper.
Notes
I love dill, so I add even more than the 1/8 cup. My rule of thumb is to add dill until it is well dispersed throughout the dip.
Only From Scratch https://www.onlyfromscratch.com/