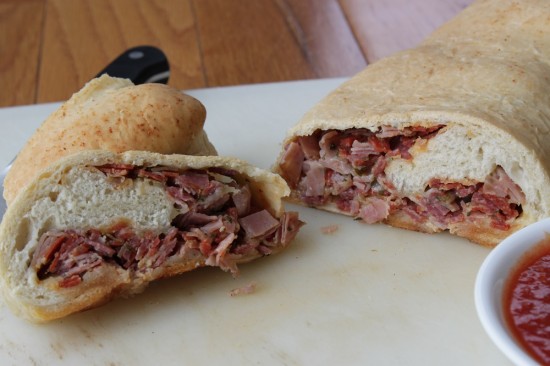 The name garbage bread probably doesn't invoke a lot of great culinary emotions, but don't let the name hold you back, this is a great recipe. It's a great recipe for a party or for the big game. It takes only a few ingredients and anyone can make it. It is a real crowd pleaser. Initially we would use balls of dough from the supermarket, we have since started making our own homemade pizza dough and find that works out great.
Garbage bread tips and tricks:
You will likely need to go to the deli to get the ham, so just have them slice the salami and pepperoni for you. You can use artisan salami and pepperoni, but it's not really necessary for this one. Save those for your charcuterie plate and stick to the deli for this one. Ask them to slice it thick, it will save time when it comes time to cutting it up. Another suggestion is to put the meats in the freezer for about 30 minutes prior to cutting. That will keep the pieces from sticking together and save you some time peeling the pieces apart. As for the provolone, I have gone the deli sliced route as well as grating a block of sharp provolone. Turns out pretty much the same, so use whichever you prefer. I have used the lower fat variety from the deli and it has worked out well. I have also used the lower fat pepperoni and salami from the deli, those don't change the flavor much, but cut down on the grease once things start getting hot. Put a thin coating of olive oil on your heavy rimmed baking sheet as that will give the bread a crispy crust. Serve with a side of marinara sauce for the complete package.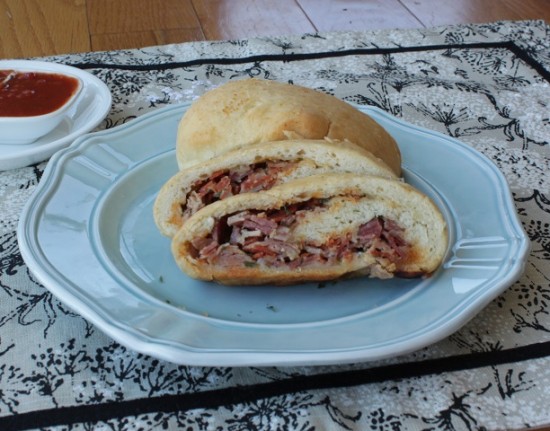 garbage bread
2014-02-16 20:32:58
Ingredients
2 Pizza dough balls
1/2 lb Virginia ham
1/3lb pepperoni
1/3lb salami
1/3lb provolone cheese
1/2tsp garlic powder
1-1/2tbsp parsley
1 beaten egg
2tbsp melted butter
Instructions
Let dough rise for two hours
Preheat oven to 350
Cut ham, salami, pepperoni and cheese into a 1/2" pieces
Mix meats and cheese with egg, garlic powder and parsley
Roll or stretch dough into a 8" x 14" rectangle
Place half of the meat mixture into center of the dough
Roll dough, folding ends into the roll
Place seam side down on baking sheet
Repeat rolling procedure for the second ball of dough and remaining mixture
Brush rolls with butter
Bake for 25 minutes
Only From Scratch https://www.onlyfromscratch.com/