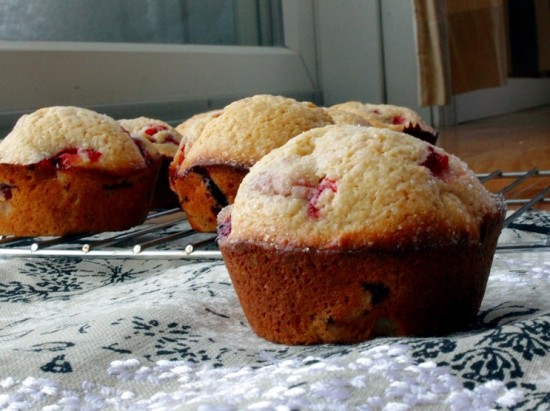 These strawberry lemon breakfast muffins were not my favorite, but since my 3 year old ate three of them so far today I thought that I'd ask her what to write about them.
Me: "Tell me about your muffin."
K: "You take pictures of them."
Me: "How do they taste?"
K: "Good. They my favorite muffin."
There you have it folks, a review by a preschooler. These muffins were very easy to make and my kids liked them a lot. The original recipe called for wheat flour but reviewers complained that they were too dense. I used all purpose flour for this recipe. I do think that the texture of this muffin was good. Our strawberries were not the sweetest and despite dusting them with some sugar, the muffins still could have used a bit more sweetener. I think a light cream cheese frosting or thin lemony glaze would really make these muffins stand out.
Overall these muffins were tasty and I enjoyed the subtle hint of almond that accented the sweet berries and the tart lemon. I still prefer a homemade blueberry muffin hands down!
Strawberry Lemon Breakfast Muffins
2014-02-16 15:57:06
Ingredients
1/4 cup vegetable oil
1/2 cup milk
1 egg
1 lemon, zested and juiced
1/2 teaspoon almond extract
1 teaspoon vanilla extract
1 3/4 cup all-purpose flour
1 teaspoon salt
1 teaspoon baking powder
1/2 cup white sugar
1/4 cup packed brown sugar
1 cup chopped fresh strawberries
2 tablespoon sugar, for dusting
Instructions
Preheat oven to 375 degrees F.
Spray a muffin tin with nonstick spray
In a medium bowl, beat together the oil, milk, egg, and lemon juice. Add almond extract and vanilla extract and stir.
In a separate bowl, mix the lemon zest, flour, salt, baking powder, white sugar, and brown sugar and mix well to combine. Add the oil mixture slowly and stir until batter is combined and lumpy.
Mix in strawberries.
Fill muffin cups about 3/4 full with the batter and sprinkle sugar over the tops.
Bake 18-20 minutes in the preheated oven. Brush the tops with a little bit of butter and allow to cook for another 5-7 minutes, or until done and tops are golden brown.
Cool on wire rack.
Adapted from Allrecipes
Only From Scratch https://www.onlyfromscratch.com/