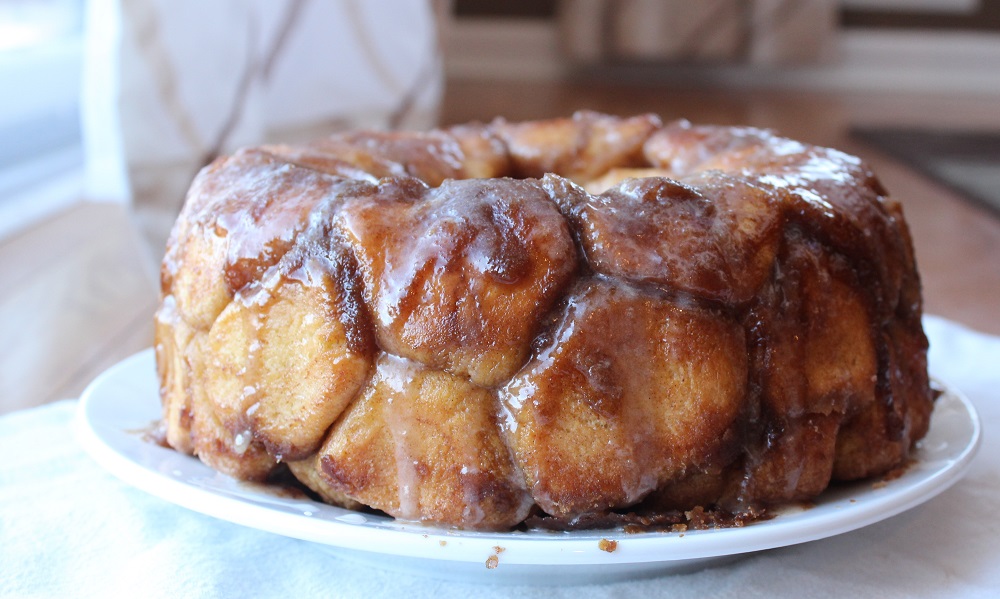 Do you crave homemade cinnamon rolls but don't want to get up at the crack of dawn to pull it off? Plan ahead and make the dough for this pull apart bread the night before and you can enjoy all of the sticky, sweet goodness of cinnamon rolls in a warm, gooey mound that will leave your family reaching for more all morning long.  If you are looking for a fun, heavenly breakfast treat for your family, look no further than this incredible cinnamon sugar pull apart monkey bread recipe.
We have a children's cookbook that has a recipe for monkey bread in it but I've ignored it for years because it calls for store bought dough that comes in a can.  That doesn't exactly fit our only from scratch philosophy!  Preparing the dough is not that difficult!  So the night before you want to eat this decadent treat haul out your stand mixer and invest a few minutes to make the dough. It's worth the effort. 
Tips and Trick for Cinnamon Sugar Pull Apart Monkey Bread
Resist the urge to use store bought dough in a can.  Use your stand mixer to prepare the dough the night before you want to enjoy this treat.
Be sure to use warm water and milk.  You should aim for a temperature of 110 degrees Farenheight.  If your water and milk are too warm, you run the risk of killing the yeast.  This means that you will wake up to a cold lump of dough in your refrigerator.
I use the microwave to melt my butter but this means that it is usually very hot.  Do this step and let the butter sit while you allow the yeast and water to become foamy.
Allow your dough to rise at least 8 hours in the refrigerator.  If time allows in the morning, allow the dough to warm up a bit before you begin working with it.  I needed a longer cook time because the dough was still pretty cold when I put the pan in the oven. 
Grease your bundt pan generously so that the bread does not stick. I used a non-stick flexible silicone bundt pan, which made removing this treat from the pan super easy.
Don't count on left overs.  Your family is sure to devour this pull apart bread.
Cinnamon Sugar Pull Apart Monkey Bread Recipe
Author:
Only From Scratch
Ingredients
1 package of active dry yeast
¼ cup of warm water
1 and ¼ cups of warm whole milk
⅓ cup melted butter
¼ granulated sugar
2 eggs
1 teaspoon kosher salt
5 cups all-purpose flour
¾ cup butter
1 and ¼ cup granulated sugar
1 tablespoon cinnamon
⅔ cup light brown sugar
1 teaspoon vanilla extract
1 cup confectioner sugary
3 Tablespoon heavy cream
1 teaspoon vanilla extract
Instructions
In the mixing bowl for your stand mixer dissolve yeast in the warm water and allow to foam. Add milk, melted butter, sugar, eggs, salt and half of the flour and mix well using the dough hook on medium-high speed until well combined. Once combined, add the remaining flour slowly until the mixture forms a firm dough ball.
Knead dough using the dough hook until the dough is smooth and elastic. Alternatively, you may knead by hand for approximately 5 minutes. Transfer dough to a well greased large bowl and cover loosely with plastic wrap. Allow to rise in the refrigerator overnight.
In the morning, remove the dough from the refrigerator and deflate the dough by punching the risen dough down.
In a small bowl, melt ½ cup of butter and combine with cinnamon and sugar.
Prepare a bundt pan by greasing generously with vegetable shortening or cooking spray.
Divide the dough into smaller pieces and roll into approximately 40 balls. Roll in the cinnamon sugar mixture and place in the bundt pan, layering on top of each other until done.
Preheat the oven to 350F. Allow the prepared dough balls to rise in the bundt pan for approximately 30 minutes.
Melt ¼ cup butter and add brown sugar and vanilla and stir until well combined. Pour mixture over the dough in the bundt pan and transfer to the oven. Bake for 35 minutes or until done.
Allow bread to cool for 5-10 minutes and then transfer to plate.
Combine confectioner sugar, heavy cream and vanilla until smooth glaze and then pour over the top of your finished monkey bread.