My weekly menu posting declares that this is house favorites week and that is no lie. I would say that this recipe ranks #1 as our family favorite (Eric correct me if I'm wrong). Chicken Milano draws actual cheers from the children (ok, and the adults too) whenever it makes the dinner rotation. We are a family that does not like to eat the same thing over and over again, but I'm fairly certain that I could make this daily for a week straight with zero complaints.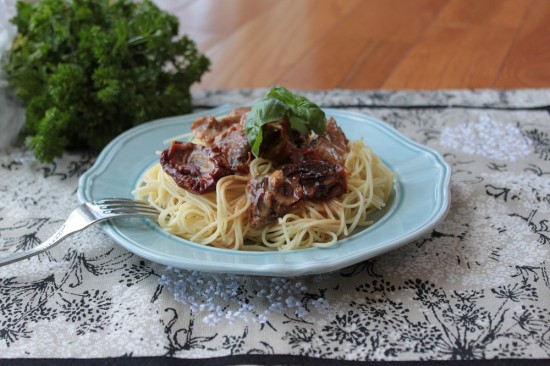 Chicken milano has been like an honorary family member for years. It has a seat at our table more often than our actual extended family does. This simple cream sauce evolves from the sweet flavors of sundried tomatoes simmered in chicken stock. The addition of heavy cream, basil and chicken at the very end produces a flavor profile that makes mouths happy.
One of the best parts about this meal is that it is quick and relatively easy. To pull this off on a weeknight, stay focused and you can have this on the table in less than 30 minutes. The recipe is straightforward with no big surprises.
Chicken Milano Tips and Tricks:
Don't forget the pasta: Always start by getting your pasta water going. Too many times have we gotten to the finish and noticed no boiling water.
Choose your chicken wisely: I prefer to use chicken tenderloins for this recipe, as they cook up quickly and stay nice and tender. Don't cut corners on this step, pan fry these because you'll appreciate the extra flavor that the pan scrapings provide. You can use chicken breasts, but pound them thin to keep cooking times down and let them rest after cooking them so that the chicken retains its juices when you slice it.
For more flavor avoid sundried tomatoes packed in oil: We have started using sun dried tomatoes that are not packed in oil. These are easier to cut up and result in a sauce that is much more flavorful and a lot less greasy. I do add an extra splash or two of broth to help rehydrate these.
Let it thicken: Definitely allow this mixture to thicken until it coats the back of your spoon. Avoid the temptation to rush it. It will cling perfectly to your pasta.
In my house, the protein is almost always is the star of the dish. When we make this everyone goes back for seconds, but it's actually the pasta that we go after. For this meal, the cream sauce is the superstar. Give it a try and you'll adopt this dish as an honorary family member too.
Chicken Milano
2014-01-22 19:35:46
Ingredients
1 Tbsp butter
2 cloves garlic, minced
1/2 cup sundried tomatoes, chopped
1 cup chicken broth
1 cup heavy cream
1 pound chicken tenderloins
salt and pepper to taste
2 Tbsp veg. oil
2 Tbsp fresh basil
8 ounces of pasta, cooked
Instructions
In large deep skillet, melt butter and then saute garlic until fragrant, approximately 30 seconds. Add sundried tomatoes and 3/4 cup of chicken broth. Bring to a boil and then reduce to simmer.
Cover and cook for 10 minutes, until the tomatoes have softened.
While the sundried tomatoes simmer, in another pan cook chicken seasoned with salt and pepper in the oil. Once cooked, remove from pan and set aside.
Add 1/4 cup chicken broth to the pan that your chicken cooked in and scrape up chicken bits.
Add cream to the sundried tomato mixture and then bring to a boil, stirring. Simmer over medium heat until sauce thickens. Once this sauce has thickened, add the 1/4 cup of chicken broth and pan scrapings to the cream sauce.
Stir in basil and season to taste.
Stir in chicken.
Serve over hot pasta. Garnish with fresh basil.
Only From Scratch https://www.onlyfromscratch.com/