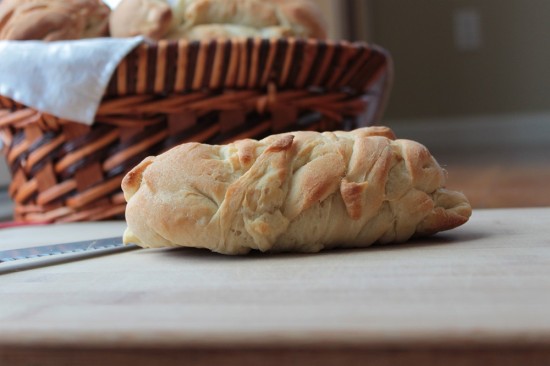 When faced with left over turkey meatballs, in our house we choose between eating meatball pizza or meatball subs. This week meatball subs won. Sticking to our "no purchased bread" rule meant figuring out how to make sub rolls. My quest resulted in the ugly ducklings pictured above.
Do not let these pictures discourage you. These mounds of bread are actually quite delicious. Sure they look like someone pasted pieces of dough on them or like it's all swaddled in itself, but they are surprisingly airy and buttery. The dough took on an odd consistency after the addition of butter and didn't seem to want to come together correctly. The original recipe warns that the dough will take on this consistency but promises that it will all come together. It did come together (sort of) but for me it wasn't pretty. It's okay, kids like meals that come in weird shapes.
These were an excellent roll for meatball subs. It was fun trying to figure out how to cut these misshapen clumps of goodness to make them into sandwiches. Although horribly disfigured, they made an awesome meal. A perfect sub roll that did not get soggy from the sauce or too crisp under the broiler. I will definitely make these sub rolls again and perhaps for take two they won't look like my dog chewed them up.
In the meantime I will sit here wondering if the reviewers at Foodgawker have a sense of humor, or if this submission would result in a swift closure of my account.
Homemade Sub Rolls
2014-01-23 22:20:21
Ingredients
4 cups bread flour
1 3/8 cups warm water (110-115F degrees)
2 Tbsp sugar
1 Tbsp active dry yeast
1 tsp salt
3 Tbsp cold butter, cubed
Instructions
Combine the yeast, sugar and 3/8 cup warm water in a bowl of a stand mixer and mix with a whisk.
Allow mixture to sit at room temperature for approximately 10 minutes. The yeast will get bubbly and the liquid will look thicker.
Attach the dough hook to your mixer. Add the flour and the rest of the water.
Mix on low speed for 4 minutes.
Add in the salt and mix for 5 minutes. Increase the speed to medium.
Add in the butter and mix for 3 minutes or until the dough comes back together. (This is where the dough stopped sticking together and to the dough hook. I had to knead by hand.)
Remove from bowl and transfer to a greased, covered bowl until doubled in size. ~1 hour.
Divide into 8 pieces and shape in to rolls.
Transfer to a sprayed, parchment lined tray and cover.
Allow to rise again for approximately 45 minutes.
Preheat oven to 375 degrees F.
Bake until golden brown, about 18 minutes (depending on the size of your rolls).
Adapted from The Kitchen Whisperer
Only From Scratch https://www.onlyfromscratch.com/