Homemade White Bread from Scratch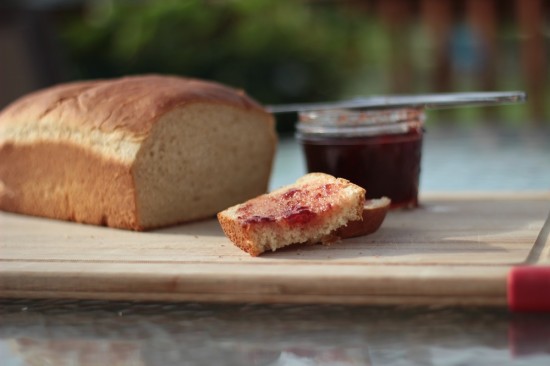 For months, my daughter has refused to take a sandwich to school. Little did I know, that she's been trading whatever I sent in, for a ham and cheese sandwich on white bread. Apparently she doesn't care for whole grain wheat bread. From my experience, white bread is one of the most heavily processed and preservative filled things on the planet. Seriously, how can bread not mold?! Since basic white bread brands seem to defy the laws of nature, I refuse to buy them. Unfortunately, I'm out of clever lunch ideas and honestly, the thought of just slamming some PB&J together sounds much more appealing than dreaming up some spectacular lunch that will just get traded anyway. So when the grocery store was out of the organic brand that I had planned to try, I said, screw it! I'll make homemade white bread myself!
What have I learned? White bread is gross, until you make it yourself.
Following an Amish white bread recipe for the first time can be pretty anxiety provoking. It seemed that no reviewer had messed up this recipe. The pressure was on.
The first step of this recipe is the activation of the yeast or "proofing". This recipe called for two cups of warm water and even gave specifics for the temperature. Luckily, the tap water was just about 110 degrees. Without some intervention you cannot maintain that temperature for 10 minutes, especially after adding sugar and cold yeast. The science nerd in me could have sure used a Bunsen burner. Thankfully, the warming zone on the stove top worked just fine, keeping the mixture at the perfect temperature through the 10 minute proofing process. Once the mixture was nice and foamy, it was transferred to the mixing bowl, where I added oil and salt.
Flour was then added gradually, one cup at a time, and mixed using the dough hook attachment for my Kitchen Aid mixer. Once the mixture pulls away from the sides of the bowl and is no longer sticky, it is ready to transfer to an oiled mixing bowl and left to rise. I left mine covered with a damp kitchen towel for about an hour.
The dough doubled in size after about an hour at room temperature (which, with the heat cranked up to just how I like it, was probably about 74 degrees). Once it's doubled in size, it's time to "gently deflate" (a.k.a punch) your dough ball, divide and form into two loaves.
Transfer to well oiled loaf pans. Let them sit in the pans (again at tropical room temperature) and allow these babies to rise until they are about one inch above your loaf pan. This took about 45 minutes but will vary depending on how warm your house is. FYI: I did not cover the dough for this step.
Once risen, we tossed them in the oven and OMG bread!
We ate a whole loaf for lunch. No joke.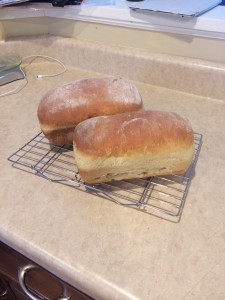 Homemade White Bread Recipe
2013-12-15 20:27:11
Ingredients
2 cups warm water
2/3 cup white sugar
1 1/2 tablespoons active dry yeast
1 1/2 teaspoons salt
1/4 cup vegetable oil
6 cups bread flour
Instructions
In a large bowl, dissolve the sugar in warm water. Stir in yeast. Allow to proof until yeast resembles a creamy foam.
Mix salt and oil into the yeast. Add flour one cup at a time using standing mixer fitted with the dough hook. Mix dough on low speed until all the flour is combined. Gradually add additional flour in small amounts until the dough pulls away from the sides of the bowl and is no longer sticky.
Form into a ball on a well floured surface and place in a well oiled bowl. Turn dough to coat. Cover with a damp cloth. Allow to rise until doubled in bulk, about 1 hour.
Punch dough down. Knead for a few minutes, and divide in half. Shape into loaves, and place into two well oiled 9x5 inch loaf pans. Allow to rise for 30 minutes, or until dough has risen 1 inch above pans.
Bake at 350 degrees F (175 degrees C) for 30 minutes
Adapted from Amish White Bread Recipe
Only From Scratch https://www.onlyfromscratch.com/