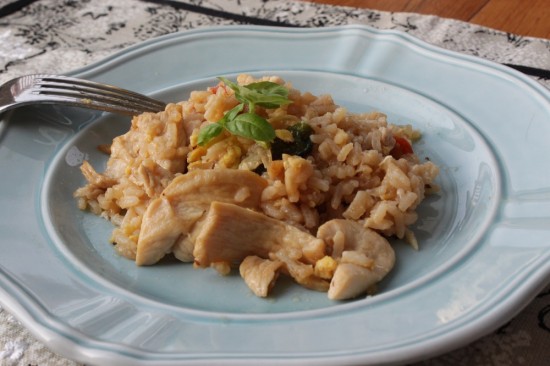 I am not going to lie, I like food. As a result of liking food so much I read about it; I read sites like Food Gawker and even the food blog from our local newspaper. One day about a year and a half ago there was a post about a new Thai restaurant in my town. I have had Thai when ordering in lunch with co-workers and it was OK, nothing to write home about, just OK. I sent a link to the post to my lunch crew and said that we should try it. A week or so later we headed down to the place and gave it a try. That was it, I was done for. The era of eating Thai food from this particular restaurant on a weekly basis (at a minimum – I have had two trip days: don't judge me) was upon us. I brought my wife in and she was in love too.
After eating this wonderful food for a while we started to think about how we might be able to replicate (or come close, at least) at home. I was checking out our planned menu for one week and saw that Thai fried rice was on it. I was excited, but prepared to be let down at the same time. I mean, these guys are professionals and surely I won't be able to do it as well as they do. The day came to make the meal and for whatever reason I was cooking that night. I learned a bunch of good lessons while making it:
Read the whole recipe before starting (I know you are supposed to do that anyway, but I sometimes don't – sue me!)
Prep all of the veggies/sauces/spices/etc. before you start cooking.
Did you read the whole recipe? Yeah, didn't think so….go read it again.
Have vinyl/rubber gloves on hand for cutting hot peppers.
Fish and oyster sauces pretty much smell nasty and it's hard to believe that something as foul can result in something that actually tastes good.
I found that this is a pretty fast paced dish and having everything prepped ahead of time will go a long way in helping you create a tasty meal that your family will love. Both my 10 and 2 year old gobble it up even though it ends up being fairly spicy. Use your best judgment when it comes to adding the peppers. We like spicy food, so we went full strength.
Thai Spicy Fried Rice
2013-12-17 18:42:09
Ingredients
3 tablespoons oyster sauce
2 tablespoons fish sauce
1 teaspoon white sugar
1/2 cup peanut oil for frying
4 cups cooked jasmine rice, chilled
6 large cloves garlic clove, crushed
2 serrano peppers, crushed
1 pound boneless, skinless chicken
breast, cut into thin strips
1 red pepper, seeded and thinly sliced
1 onion, thinly sliced
2 cups sweet Thai basil
1 cucumber, sliced (optional)
1/2 cup cilantro sprigs (optional)
Instructions
Whisk together the oyster sauce, fish sauce, and sugar in a bowl.
Heat the oil in a wok over medium-high heat until the oil begins to smoke. Add the garlic and serrano peppers, stirring quickly. Stir in the chicken, bell pepper, onion and oyster sauce mixture; cook until the chicken is no longer pink. Raise heat to high and stir in the chilled rice; stir quickly until the sauce is blended with the rice. Use the back of a spoon to break up any rice sticking together.
Remove from heat and mix in the basil leaves. Garnish with sliced cucumber and cilantro as desired.
Only From Scratch https://www.onlyfromscratch.com/
I have not written off my favorite Thai restaurant just yet, but this recipe is one that just about anyone can make and it makes for a super quick weeknight meal. Plus once you buy the fish and oyster sauce, you will be able to make this recipe out of your fridge or pantry for those nights where things didn't work out the way that you expected, or just not feeling what is planned for that night. If you plan ahead and buy a bunch of the Serrano peppers. you can clean them and freeze them to have them whenever you need them. In a pinch you could also use red pepper flakes to add the heat in place of the fresh peppers. If preferred, you could also substitute in beef, pork or tofu for the chicken.
If you love spicy Thai food the way I do, you will find yourself cooking this pretty often. Now I just need to find a good recipe for drunken noodles and I can replace another restaurant with dishes that I can make just as good at home.