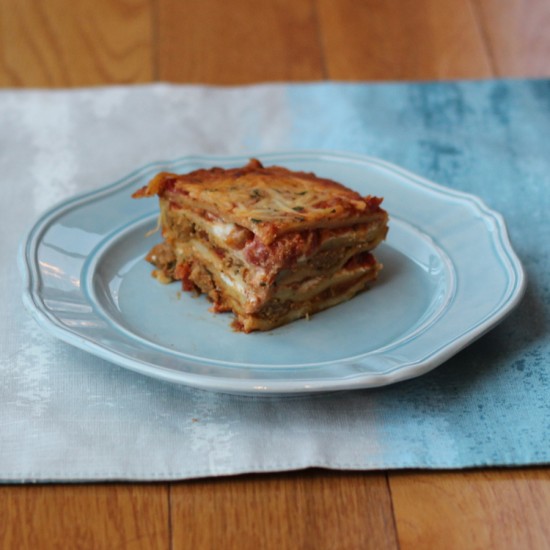 I know it's hard to believe, but sometimes we have leftover turkey pesto meatballs. What is someone to do? We have done meatball subs using our great sub roll recipe, don't worry we figured out the whole forming dough thing. They look legit these days. We were looking for something else to do with these leftovers. We weren't too inspired and new uses for them were slow to come. That is until I was heating up leftovers for lunch at work one day. I started chatting with a woman that I work with and somehow we got onto the subject that I had been making my own pasta and that evolved into a general conversation about Italian food.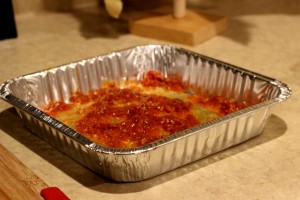 One Italian food that we had not really gotten the hang of was lasagne. Apparently this was one of her specialties – using her Italian grandmothers ages old recipe. Her secret was to use meatballs in place of browning ground beef. Meatballs you say? Go on. So standing in the kitchenette at work I get the basic rundown of this recipe for lasagne.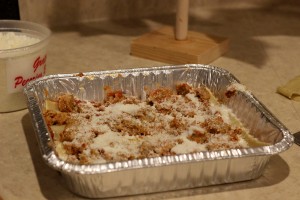 Start with sauce on the bottom of your pan and then a layer of fresh pasta. She said that you get by with a good one from a local Italian grocery if you weren't making your own, but for goodness sakes, skip the boxed nonsense. On top of the pasta, put some sauce and a nice layer of crumbled meatballs and sprinkle with grated romano cheese. Cover that with more pasta and cover that with a thin, but not too thin layer of ricotta topped with sauce. Another layer of pasta with sauce, crumbled meatballs sprinkled with romano. Another layer of pasta, ricotta and sauce; one last layer of pasta and top with sauce and mozzarella cheese.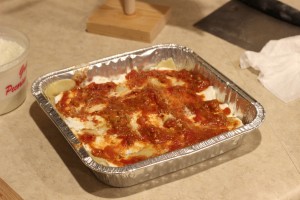 Cover the top with aluminum foil and cook for 30 minutes at 375 degrees Fahrenheit. Remove the foil and cook for another 15 minutes to allow the cheese to get nice and melty and crispy. Perfect.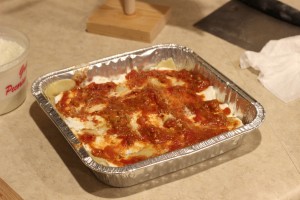 Over the years we have tried several lasagne recipes, most of them were more complex than this – mixing all sorts of cheeses and eggs with the ricotta. Or, mixing different ground meats and cooking it in different spices. The beauty of this one is it's simplicity. You transform ingredients that you already use and love into something more. It really is better than the sum of its parts.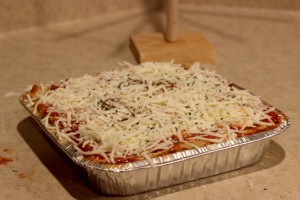 A word about the process I used to roll out the fresh pasta for the recipe. For the lasagne, I used the same recipe as I normally use. I cut the dough into manageable pieces and ran it through the pasta roller on setting one, then change to setting two and roll it through. Change the setting back to one and fold the dough in half and run it through again. Decrease setting to two and run it through, work through the settings down to 7 and then fold it in half again and run it through on setting five. Now run it through on settings six through eight. At this point the sheets should be as wide as the machine and a nice thickness for use in the lasagne. If you cut this sheet in half it is what I am referring to as a sheet in the recipe below.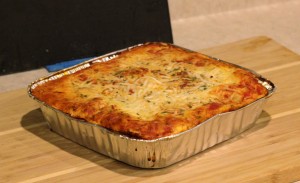 For those who have not yet tried to make your own pasta, you really should. It is so easy that anyone can do it, and the pasta is fresher and far better than anything that you are going to get at the supermarket.
Turkey meatball lasagne
2014-10-23 20:06:26
Ingredients
2 cups prepared marinara sauce - your own or store bought
8 sheets of fresh pasta dough
1-1/2 lbs crumbled turkey meatballs - use beef/pork/etc. if you prefer
2 tbsp grated romano cheese
1/2 cup ricotta cheese
1/2 cup mozzarella cheese
Instructions
Coat bottom of pan with sauce
Place two sheets of pasta on the bottom of the pan. Pasta should be rolled out so that it is wide enough to cover width of pan. If your sheets are not that wide, adjust the number of sheets.
Cover pasta sheets with half of the meatballs that have been crumbled into small pieces, sprinkle with half of the romano cheese
Cover with two more sheets of pasta, add the other half of the crumbled meatballs and sprinkle with remaining cheese.
Cover that with two more sheets of pasta and add another layer of ricotta cheese and sauce
Top with remaining two sheets of pasta and add a layer of sauce and cover with mozzarella cheese.
Cover with foil and cook at 375 degrees Fahrenheit for 30 minutes. Remove foil and cook for another 15 minutes or until the cheese is melted and cooked golden brown.
Notes
Feel free to add more layers if you would like.
Only From Scratch https://www.onlyfromscratch.com/