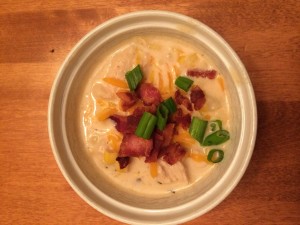 In August (I know, who eats chowder in August?), I had a surplus of fresh corn and decided to search for a corn chowder recipe. Presenting a hot steamy dish of chowder in August without getting a round of complaints from the family was going to take pure magic. This chicken and corn chowder recipe packs those magical ingredients all into one bowl and then tops them with cheddar cheese, bacon, and scallions. Not one member of this family will say no to that combination!
This recipe is pretty straightforward and will take you about a half an hour to assemble. The original recipe calls for a rotisserie chicken to speed up the process. I prefer to use left over chicken breasts for this recipe. You could also pan fry or bake the chicken while you prepare the rest of the chowder.
The first time that we made this recipe, we added only half the can of chiles because of the children. We have found that you can add the entire can and the heat remains subtle.
As for the milk, we tend to keep only 2% milk in this house. I do buy whole milk for this recipe and have not tried to substitute as I want a full bodied chowder. Yum!
Quick, easy and packed with great flavor! A perfect chowder that is so good that you can get away with serving it when it's 90 degrees out!
Chicken and Corn Chowder
2014-01-04 16:53:23
Ingredients
6 ears of fresh corn, husked and silks removed. You can also use two 15 ounce cans of corn. I have also used frozen corn (approximately 6 cups)
6 slices bacon, chopped
8 scallions
3 medium potatoes, peeled and diced
2 tablespoons all-purpose flour
3 cups whole milk
2 cups chicken stock
2 teaspoons Old Bay seasoning
1 teaspoon dried parsley flakes
1/2 teaspoon dried thyme
1/4 teaspoon cayenne pepper
1 small can chopped green chiles
2 cups roasted chicken, shredded
Salt and pepper, to taste
handful of grated cheddar, for garnish
Instructions
In large stock pot, fry bacon until crisp. Remove from pan, leave drippings.
Chops potatoes into bite sized chunks. Slice scallions thin and separate green and white.
Cook potatoes and white scallion pieces over medium heat for 2-3 minutes.
Sprinkle in flour and cook for 1 minute, stir constantly.
Pour in milk, chicken stock, old bay, thyme, parsely, cayenne, salt and pepper and stir well. Bring to boil over meidum heat.
Reduce to low and simmer 15 minutes until potatoes are tender. Add corn, chicken and green chiles. Cook 5 minutes.
Garnish with scallion greens, bacon and cheddar cheese
Adapted from Buns In My Oven
Only From Scratch https://www.onlyfromscratch.com/