It is the week of New Years and like a lot of folks one of my resolutions is to eat better and exercise more.  One of our favorite recipes lately is black bean veggie burgers.  They are meat free but still contain a good deal of protein and flavor.  The best part is that they are fairly low in calories and fat and they taste great!  If you are looking for a great side dish to go along with the burgers, check out our recipe for baked avocado fries!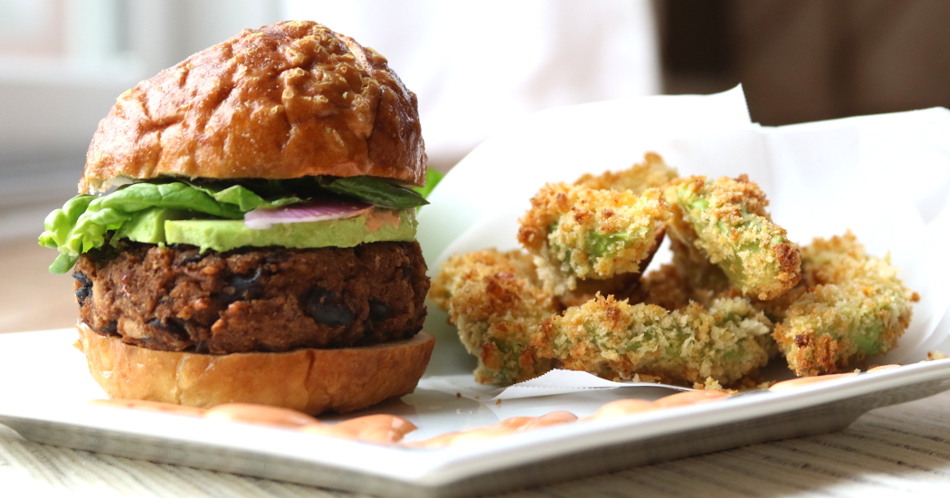 Black bean veggie burgers process:
This recipe can be used as a basic guideline for making black bean veggie burgers, but the process can be used with different ingredients to make these your own and to your own tastes.  There are three basic components, beans, bread crumbs and the binder. 
You can use your favorite type of beans, we have had good success with black and pinto beans. We almost always have panko bread crumbs in the cupboard so we use those most frequently, but we have used Italian style as well. Add to the bread crumbs and mashed beans a beaten egg with your favorite seasonings and a "filler" and mix and then form into patties.  We typically use garlic, onion and bell pepper that has been chopped fine in the food processor. Depending on how much moisture is in your veggies, you may need to squeeze some of the water out of them otherwise you will end up with an overly sticky mixture that will be difficult to form into patties.
I have found the best way to cook the black bean veggie burgers is to use a well oiled iron skillet.  The iron skillet retains enough heat and give the patties a nice crust that adds a pleasant crispiness to the burgers. A high temperature oil such as peanut or coconut oil works best to prevent burning.  Serve with lettuce, tomato and a fresh homemade bun and you won't even miss the meat in this dish.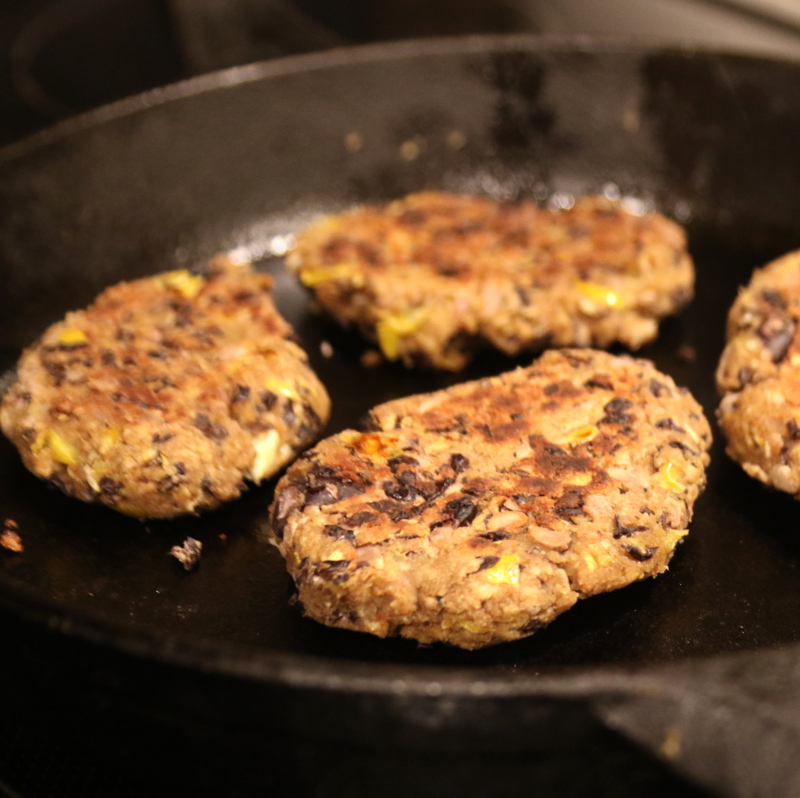 Black bean veggie burgers
Author:
Only From Scratch
Ingredients
16oz can of black beans
½ cup panko bread crumbs
1 egg
1 tbsp chipotle chili powder
1 tbsp cumin
salt and pepper to taste
½ cup chopped bell pepper
¼ cup chopped onion
3 cloves garlic
Instructions
Use your hands or a fork to mash the beans and add the panko bread crumbs and bell pepper, onion and garlic that have been chopped finely in a food processor.
Separately beat the egg and mix in the seasonings.
Fold the egg mixture into the beans and bread crumbs and combine until there is a uniform mixture.
Allow the mixture to cool for 15-30 minutes in the refrigerator.
Form into 4-6 patties and cook on a preheated iron skillet (or any non-stick) skillet coated with oil (we use peanut or coconut oil for this) for 3-5 minutes per side depending on size.