Cooking from scratch can sometimes be a challenge when you are in a rush. During the week when we need to be running kids in different directions it can sometimes be difficult to get a good meal on the table and still get to practice on time. We started making a quick San Marzano tomato sauce with this mind. This is a recipe that we have been making for years but have not written up for the site. I was inspired to share it tonight as the sauce is simmering on the stove.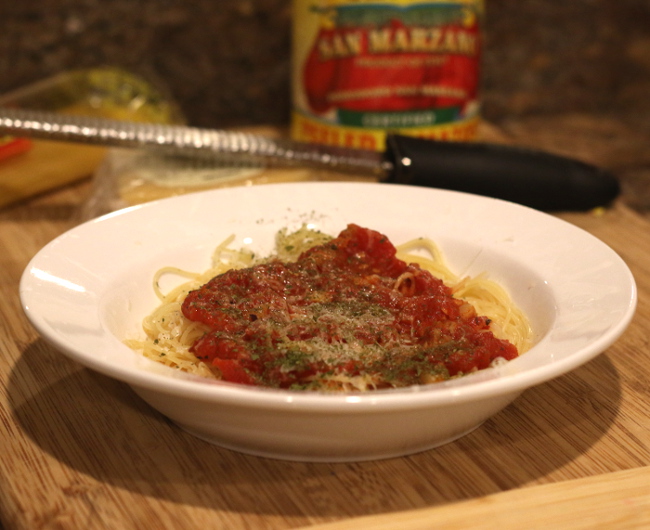 The process from converting San Marzano tomagies into a quick sauce is pretty simple: Saute garlic, onions and some herbs  in a wide saute pan (we love our All Clad Saute Pan) and then add whole peeled San Marzano tomatoes with chicken stock and cook until the tomatoes are nice and tender. Before you know it you have this San Marzano tomato sauce ready and waiting for your favorite pasta.  The sauce will be fresh and flavorful with an amazing texture that really holds the pasta. Combine with a salad and some garlic bread and you have a wonderful meal that your family will love.
San Marzano tomato sauce guide to tomatoes:
We usually grow San Marzano style tomatoes in our garden so the jars in the cellar tend to be our go-to source for them.  If it's late in the winter season and we have run out we have to rely on canned tomatoes from the supermarket.  Our local supermarket carries three varieties of San Marzano tomatoes: Cento, Pastene and Muir Glen Organic.  We prefer the Cento and Pastene options,  these two brands are softer and cook down more quickly and consistently.  We like to get organic options when available, but in this case they seem to be more dense and have more of the tomato peel in the can.
San Marzano tomato sauce
Author:
Only From Scratch
Ingredients
1 28oz can whole peeled San Marzano tomatoes
3 tbsp olive oil
4-5 cloves garlic
3 tbsp finely chopped onion
pinch pepper flake (or to taste)
⅛ tsp dried basil
⅛ tsp dried oregano
⅛ tsp dried parsley
pinch of dried thyme
pinch of dried rosemary
2 bay leaves
½ cup chicken stock
Instructions
Heat a wide deep skillet to medium heat and add olive oil and garlic. Cook about 30 seconds.
Add onion and saute for 2 more minutes
Add all dried herbs except for bay leaves and cook for one minute being careful not to burn the herbs.
Pour in chicken stock and canned tomatoes and break up the tomatoes, add bay leaves and simmer for 15-20 minutes until sauce reached desired thickness.
Serve over your favorite pasta.